By Ryan Donald
Miguel Cotto is headed towards the twilight of his successful career. The 36-year old boxer has a hall of fame career with his 40-5 record. It is fight #46 that is now getting attention, which after rumor after rumor, will not be fought in 2016 after all.
When this fight eventually happens, it will be Cotto's last fight under Roc Nation. It seems like Cotto and Jay Z's agency have had a pretty decent relationship. Cotto's close friend Bryan Perez, who also is an executive for Miguel Cotto Promotions, has said all the right things when it comes to Cotto's relationship with the agency. Perez said, "We have a great relationship with Roc Nation. We're very happy with everything. We will see what's in the future after this fight. We'll sit down and talk and go over it. We're very happy with the relationship we have established and we'll work on it after the fight. It's Miguel's decision and his vision but I want to say he feels very happy with Roc Nation and the way they have handled everything, so we'll see what happens."
Cotto's third and final fight under Roc Nation will not happen in 2016. At first there were negotiations with Juan Manuel Marquez, a fellow four-division titleholder, but talks fell through since Marquez is much smaller than Cotto and the fighters could not agree on a fighting weight. A fight between Marquez and Cotto would have netted both fighters a nice little payday. Another possible matchup was between Lamont Peterson that could have taken place at the Barclays Center on December 3rd. One issue was that Roc Nation's Andre Ward's fight against Sergey Kovalev, which is scheduled for November 19th, is too close to that date.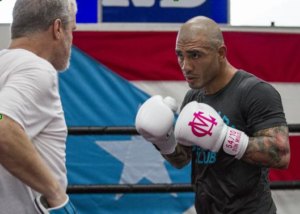 Perez went on to discuss Cotto's future after his 46th career fight saying, "The next fight is the last fight on the agreement we signed in 2015 but Miguel feels healthy and good and want to continue fighting. He has the last word and will decide what to do and what his plan will be but he says he wants to continue to fight and to explore facing the best names out there and getting the best guarantee (in terms of money)."
It is now rumored that Cotto's target date is in February for a fight at the Barclays Center. Cotto's last fight came in November 2015 in a loss to Canelo Alvarez in Las Vegas by unanimous decision. Boxing fans hope to see Cotto go out on a high note, as he is one of the best boxers of his generation. You always want to see an athlete go out on his own terms, so if this indeed Cotto's last fight, he deserves the right to make sure he is very comfortable with all of the factors that go into putting together a boxing match.