Hatfield Heavyweight Tom Little is set to debut, against Lithuanian Rolandas Cesna, at the Graham Earl Promotions 'Renaissance' event at the Liquid Nightclub in Luton on Sunday, 31st July.
Former World Champ Graham Earl knows a good prospect when he sees one, so when he recently said, "I'll be debuting an exciting new Heavyweight on the 31st" and "he's one of the best Heavyweights I've ever seen", you know that Tom has to be special.
As an amateur young Tom, who stands at a whooping 6'6" in his socks, won sixteen of his twenty two contests. Besides his height, Tom's main advantage is his exceptional speed, making him somewhat unique in a division renowned for big lumbering punchers.
Speaking earlier today Tom expanded on this as well as spoke about his upcoming debut, "I'm really looking forward to it and I'm looking forward to setting the Heavyweight division alight
I always knew my style was more suited to the pros than the amateurs, especially for the Heavyweight scene, because I've got a lot of speed which I believe the current crop aren't going to be able to live with, which I'm going to prove on the 31st when I showcase myself to everybody.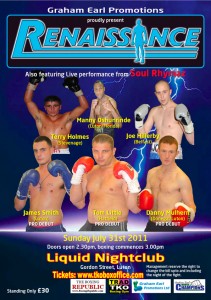 I've got a good tall range, stunning stiff jab. There's some fighters out there that are bigger than me but that don't mean much in the Heavyweights because you can't hurt something you can't hit.
Basically I can't wait to get out there, start winning and get myself noticed so people start talking about me."
Tom Little versus Rolandas Cesna will be supporting the highly anticipated rematch between Manny Oshunrinde and Jahmaine Smyle that headlines 'Renaissance
Graham Earl has put together an exciting undercard to support Oshunrinde-Smyle II that features, besides Tom Little, Belfast's big banging Joe Hillerby as well as the debuts of James Smith and Danny Mulhern.
Tickets, priced £30, for the Graham Earl Promoted 'Renaissance' event at Liquid Nightclub, Gordon Street, Luton on Sunday July 31st 2011 are available on-line at www.tkoboxoffice.com or in person at Graham Earl's House of Champions Gym, Unit 11 Hitchin Road Industrial Estate, Luton, Bedfordshire, LU2 0DZ