Article and photos by Gary Purfield
Alejandro Lopez pulled a surprising upset of Teon Kennedy in Atlantic City with a unanimous decision victory Saturday night at Bally's Casino. Lopez 22-2 (7 KO) controlled the action the majority of the bout and won by scores of 117-111, 117-111, and 115-113. Lopez takes the NABA Super Bantamweight title from Kennedy 17-1-1 (7 KO) with the win.
Kennedy won the first round which was mostly a feeling out session and round two could have gone either way. Then in round three Lopez began establishing the techniques that would lead to the win. The Mexican Lopez used constant movement to keep the Philly native off balance while repeatedly tagging him with his jab and cross. In the fourth Lopez's confidence was growing as he added some showboating with his hands down and fancy footwork to his hit and run style that Kennedy could not solve. Lopez starting adding his left hook to the mix further damaging Kennedy's face.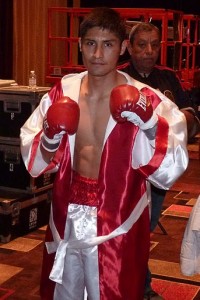 Kennedy started to mount a comeback in the mid rounds by attempting to force the action in tight and turn the boxing match into a brawl Kennedy had some success in rounds seven through ten getting the better of the action at times but even in his best rounds he never seemed to gain control of the fight. When Kennedy had his best moments it seemed he was simply winning a battle but it was always clear Lopez had control of the war.
Not leaving things to chance Lopez picked up his action again in the eleventh and really turned up the heat in round twelve to close the show. Lopez did not have a mark on him but Kennedy's eyes which had begun to swell in the middle rounds were both near shut by the twelfth. Lopez punctuated his dominance in the final round tagging Teon with hooks in close. One particular vicious left hook over the top in the twelfth busted open a cut under Teon's right eye.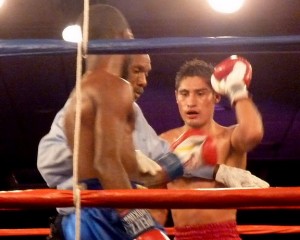 The local crowd on hand did everything they could to spark the hometown favorite Teon Kennedy but he never found a solid rhythm to truly get into the fight. The constant movement and unpredictable flurries from Lopez seemed to always get the better of things. Teon tried to stalk his opponent and cut off the ring but the Mexican was not going to be cornered on this night. Kennedy who is not a knockout puncher but usually can hurt his opponents never landed anything during the twelve rounds that was substantial.
For Kennedy this is back to the drawing board to re-evaluate. Rumors were swirling of a title shot but that is now on hold after suffering his first defeat. If approached with the right discipline this can be a valuable learning experience for the still young talented fighter. Kennedy is certainly capable of bouncing back and coming back stronger after this tough lesson.
Lopez takes a big step forward in a career that was dangerously close to opponent land. A fighter whose only two losses were close decisions to talented prospects suddenly finds himself in the mix with the better fighters after a very impressive performance.
Under-Card Report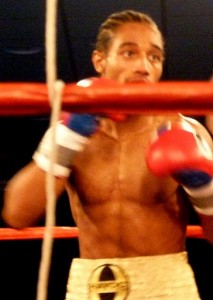 In the co-headliner Karl Dargan took a home a sixth round TKO and remained unbeaten. The Nazim Richardson trained fighter has a great deal of talent but has been held back by being inactive for extended periods of time.
Dargan started fast landing his jab and cross in round one. Then late in the first while back pedaling Dargan landed a sneaky left hook that put Suazo on his backside. In round two Dargan landed a missile of a right cross that opened a cut under his opponent's left eye.
Dargan continued the assault each round. Knowing he was getting badly beaten Suazo tried to make it a brawl coming forward with his head leading but Dargan would not allow any issues on this night. Dargan did well keeping his distance and landing at will from the orthodox and southpaw stances. He was able to pepper his opponent with various punches and easily moved out of harm's way after landing.
At 1:20 of round six the white towel came flying from Suazo's corner and referee Benji Esteves obliged stopping the fight. No one shot caused the stoppage but the sustained beating was getting excessive and Suazo 8-5-3 (5 KO) despite his effort had no chance to win the fight.
Dargan 10-0 (5 KO) picks up the UBO Intercontinental Championship with the win. Suazo who goes by the name El Bazooka AKA Taco Man gave a spirited effort but was greatly overmatched in this one.
Derrick Webster kept his unbeaten record but he had to work to do it as Romaro Johnson gave him a handful. The two super middleweights traded often and each had their moments landing heavy shots. In the end the more accurate punching of Webster 10-0 (6 KO) was favored by the judges over the relentless pressure from Johnson 11-4-1 (6 KO). The scores were all in favor of Webster 59-55, 59-55, and 60-54. While the scores were wide the fight was close and competitive.
Camilo Perez kept his perfect record with a one punch left hook knockout of James Owens. Perez 5-0 (4 KO) controlled the first round and wobbled Owens several times. Then in round two of a scheduled four in the featherweight division Perez landed the bomb putting Owens flat on his back. Owens 4-6 (2 KO) got up but was done and referee Benji Esteves waived it off for a TKO at 1:43 of round two.
Cuban welterweight prospect Yordenis Ugas beat Fernando Rodriguez silly for six rounds to remain undefeated. Ugas is a talented powerful fighter currently living in Miami FL after leaving Cuba. Ugas literally beat Rodriguez of Dallas, TX who looked like his was at least fifteen pounds north of his true weight class from pillar to post and then some. Ugas pounded his opponent to the head and body.
Rodriguez 6-5 (3 KO) had all the heart and fight in him of a true Mexican warrior (not to mention an iron chin) but that was nowhere near enough to overcome the fact that Ugas was bigger, stronger, faster, more skilled, talented., and every other adjective you can put in this sentence. Ugas 9-0 (4 KO) won the unanimous decision by scores of 59-55, 59-55, 58-56 (this writer had it a shutout 60-54 and has a hard time understanding how any round could have been given to Rodriguez).
Pedro Martinez of Philadelphia and Elvin Sanchez of Patterson NJ opened the evening with an entertaining brawl over four rounds in the cruiserweight division. Martinez won the first two rounds landing heavy head shots. Martinez scored a knockdown in round one with an overhand right his opponent never saw. Then in round two Martinez landed a big left hook that sent Sanchez to the ground. He rose on wobbly legs and was put back down seconds later for the third time in the bout. He rose again and was saved by the bell.
Martinez came out looking for the kill in round three but quickly gassed. Sanchez had his opening knowing he needed a knockout to win the short fight. He went for it and began dominating the final two rounds with hooks to the body and crosses to the head. Martinez stayed on his feet though and built a nice lead early that Sanchez could not overcome. Martinez 6-4 (3 KO) took the unanimous decision with all three judges scoring it 38-35. Sanchez drops to 4-2 (3 KO).
Notes
Having trainer Nazim Richardson involved in a card (Karl Dargan's trainer) makes everything better because you get to hear him yell his classic Philly gym lines including "swim without getting wet" and "I want my stick" during each round.
The two headlining fights were broadcast live by Top Rank Live on Fox Sports Net.
Sorry no extended photo array on this one. The setup of the press section didn't allow for decent camera work.
Question, comment, agree, disagree, or anything at all, send it to gboxing3@gmail.com
Got an Opinion? Submit Your Articles and Press Releases to be posted on NowBoxing.com
*Please refrain from leaving any Racist, Profane or Derogatory comments*