UNCASVILLE, Conn. (September 7, 2011) – Being inducted into the Connecticut Boxing Hall of Fame ("CBHOF") is "cool," according to five-time world champion Vinny "The Pazmanian Devil" Paz, who is one of seven 2011 inductees being honored Saturday night, October 29 at the seventh annual Gala Induction in the Uncas Ballroom at Mohegan Sun Casino.
The other CBHOF 2011 inductees are 1996 U.S. Olympic Boxing Team Captain, Lawrence Clay-Bey; world boxing judge Glenn S. Feldman; world light heavyweight title challenger Eric "Magic 2000" Harding; amateur boxing standout Kelvin Anderson; boxer, referee and coach Billy Taylor; highly-respected ringside physician, Dr. Michael Schwartz.
Tickets, priced at $75.00 per person, are available to purchase by calling Kim Baker at Mohegan Sun (860.862.7377) or Sherman Cain at the Manchester Journal Inquirer (800.237.3606 (X 321). Doors open at 5:30 PM/ET, followed by cocktails at 6 PM/ET, and then dinner.
A year ago, the CBHOF changed its eligibility rules to allow a maximum of one non-Connecticut fighter who had distinguished himself boxing in the Nutmeg State. "Irish" Micky Ward, from Massachusetts (Lowell), was the first while Paz, who hails from Rhode Island (Cranston), will soon become the second.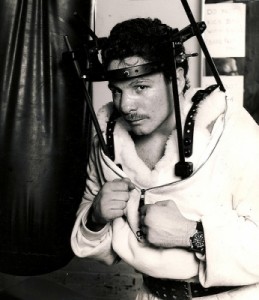 "This is quite an honor," Paz said. "I'm happy to be acknowledged and it's cool to be noticed. I'm glad that I'll be able to share it with my old gang who saw me fight so often in Connecticut. I had so many fights in Connecticut (15 with 12 wins), including by 50th career win. It was great fighting at home in Rhode Island and I grew-up fighting in Atlantic City, but Connecticut was like my second home because the 'Pazmaniacs' could easily travel there to watch me fight. Connecticut was awesome for me. I loved that it was only a 20-25 minute drive for me to the Connecticut border."
Among the five world titles captured by Paz (50-10, 30 KOs) were the IBF lightweight and WBA light middleweight championships. The popular Italian-American with a passionate, cult-like following ("Pazmaniacs") was the prestigious 1991 Ring Magazine Comeback of the Year Award recipient after he overcame a broken neck suffered in a car crash to win another world title.
Over the course of his illustrious 21-year pro career, Paz (originally known as Vinny Pazienza) defeated a Who's Who of boxers, including Roberto Duran and Greg Haugen twice apiece, Lloyd Honeyghan, Gilbert Dele, Harry Arroyo, MelvinPaul and Esteban Cervantes.
Paz is looking forward to the filming of his life story — appropriately named,"Paz" – that he reports has been 20 years in the making. Vinny believes the film will be completed by the end of 2012. Actor James Franco is in line to play Paz, who reports that Martin Scorcese may be the director, and Jack Nicholson could play his late father, Angelo.
Go on line to www.CTBoxingHOF.com for more information about the 7th annual CBHOF Gala Introduction Dinner or the history of this organization.