TORONTO (September 15, 2011) – With all due respect to the Toronto Maple Leafs and Montreal Canadians, the long, rich arch-rivalry in sports between Ontario and Quebec is, perhaps more prevalent today in boxing than even hockey.
The aforementioned rivalry heats up October 22 at The Hersey Centre in Mississauga, Ontario, when unbeaten World Boxing Association ("WBA") No. 11-rated Logan Cotton McGuinness, of Ontario, takes on and former world title challenger Benoit Gaudet, of Quebec, in the 10-round main event on a card presented by Hennessy Sports in association with Interbox and United Promotions.
The adversarial provincial competition continues November 5 at Pepsi Coliseum in Quebec as two-time world champion Steve "The Canadian Kid" Molitor (33-2, 12 KOs), of Ontario, faces Sebastian Gauthier (21-2, 13 KOs), of Quebec, in the co-feature on the Lucian Bute-Glen Johnson card, presented by Interbox.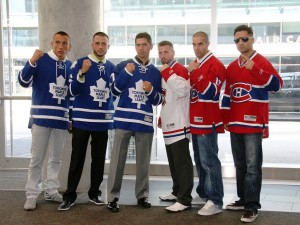 "The cross-provincial rivalry between Ontario and Quebec is intense in all sports," promoter Adam Harris (Hennessy Sports) said. "Canada's rich boxing history is keeping this rivalry going strong today. From Ontario's Lennox Lewis, George Chuvalo and Tommy Burns, to Quebec's Arturo Gatti, Lucan Bute and Jean Pascal, both provinces have had so many great boxers over the years, right up to now. We're proud to be continuing this heated boxing rivalry with McGuiness fighting Gaudet."
Red-hot prospect McGuinness (15-0-1, 7 KOs), fighting out of Orangeville, Ontario, captured the North American Boxing Association ("NABA") Lightweight Champion for the past 13 months, but the Irish-Canadian will abdicate his belt in order to challenge Gaudet for the vacant NABA super featherweight title.
The 24-year-old McGuiness forced Buzz Grant to retire on the stool after two rounds in their Sept. 29, 2010 NABA lightweight title fight. He successfully defended his crown this past February, knocking out Hector Julio Avila, and in his last action June 24 via a 10-round decision Daniel Ruiz.
The 31-year-old Gaudet (24-2, 10 KOs), of Drummondville, Quebec, was the Canadian lightweight champion in 2005, as well as the NABA super featherweight champion crown in 2007-2008. Gaudet was stopped by defending champion Humberto Soto in their 2009 WBC super featherweight title fight.
Another rivalry match on the Oct. 22 card pits unbeaten Columbian welterweight Samuel Vargas (7-0-1, 1 KO), fighting out of Mississauga, Ontario, against outspoken Montreal favorite Ahmad Cheikho (6-3-2, 5 KOs) in the 8/10-round co-feature. The relentless, pressuring Vargas has been inactive since February due to an injury and recovery, while Cheikho finds himself in a crossroads fight.
Tickets, starting at $35.00, may be purchased at The Hersey Centre Box Office, through Ticketmaster at 416.872.5000 or ticketmaster.ca.
Goon line at www.HennessySports.comfor more information McGuinness and the Oct. 22 show.