By Lester Salvador
I'm getting sick and tired of Manny Pacquiao and his team ducking the top dogs from welterweight to middleweight. It makes me want to puke every time someone calls Manny Pacquiao a boxing legend or the pound for pound king, how can he be a boxing legend or an all time great if he never fought any prime fighters?
Manny Pacquiao aka the most overrated boxer in the history of the sport, has been called out by Sergio Martinez but will Pacquiao accept the challenge or continue his ducking act and continue fighting handpicked opponents coming off their worst performances ever?
I predict that Manny Pacquiao, Freddie Roach and Bob Arum will ignore and avoid Sergio Martinez like the plague. They will act like Martinez doesn't exist because they know Sergio Martinez will expose the so called giant slayer. It's easy to beat up on big men when you are draining them and take advantage of them like the honorable Puerto Rican Miguel Cotto or fighting the right ones, like slow Antonio Margarito.
All of Pacquiao's fans want to brag that he beat up on a big Margarito, so if Manny was able to beat up a guy like Margarito let's see him against middleweight champion Sergio Martinez who is shorter than Antonio Margarito and weighs the same as Margarito. Sergio Martinez even said he would go all the way down to 150-pounds just to fight Pacquiao.
I already know the response from his overprotective fan boys, "Let Sergio pick on someone his own size, Manny is too small!" or "Let Sergio fight Floyd Mayweather or Andre Ward instead of Pacquiao," these are typical reactions out of fear. The Pacman fans know Sergio would wipe the floor with Manny and possibly KO him in the first round, something similar to his knockout of Paul Williams.
If Manny really wants to prove he is such a bad ass fighter, he should accept Sergio Martinez's challenge but instead of making it at a catch-weight, tell Sergio that he will fight him at the 160-pound middleweight division. That is what legends do, they defy the odds, look at Roberto Duran he went up in weight and never did that catch-weight crap that Pacman is doing now. If Pacman has the balls and if he is such a great, he should fight Sergio Martinez to prove to the world that he can beat a tough fighter who isn't washed up.
Got an Opinion? Submit Your Articles and Press Releases to be posted on NowBoxing.com
*Please refrain from leaving any Racist, Profane or Derogatory comments*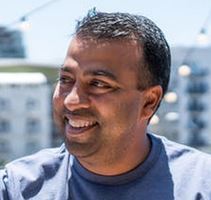 I love the sweet science of boxing and enjoy sharing my opinion on it.  Boricua!