One of Great Britain's best known coaches, Johnny Eames, and his fighters never seem to be out of the sports pages or off the TV screens these days. Just last Friday Johnny guided Leon 'Solid' Williams to victory, over Rob Norton, to become the new British Cruiserweight Champion. So no surprise then that two more of his charges, 'Saint' George Jupp and Ian Bailey, are in action at the York Hall in Bethnal Green this Saturday.
OK, not that unusual for a coach to have a pair of fighters in action on the same show, but when that particular event happens to be the hugely popular Matchroom Sports Prizefighter tournament it's kind of different.
In any normal event there would never be the possibility of two boxers from the same stable fighting each other in competition, but the Prizefighter tournament is another thing altogether and there is a very high chance Johnny's boys will face each other, which has created a real dilemma for the erudite Mr. Eames, as became clear when Johnny spoke about the upcoming tournament earlier today, "Prizefighter is a great boost for anyone's career, whether it's that they're career is flagging or if they are trying to get their career to take off.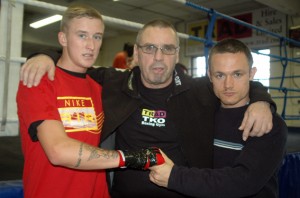 I have two boys in Prizefighter on Saturday night, both capable of winning it. It'll cause me a real dilemma if they meet early.
If it's in the final if that they meet, then I'll be real happy with that.
Yeah it's a dilemma that might and could happen and hopefully will happen, that is as I just said as long as it's not until the final.
Who do I think will win if they meet is something I'll keep to myself. All I know is they both deserve to win it, they both work very hard and are both totally committed.
As fighters they are very different, Georgie Jupp is a Super Featherweight coming down to Featherweight and Ian Bailey is a Super Bantamweight going up to Featherweight.
Ian's probably got the harder side of it, being the smaller guy coming up. But he always gives his all against anybody and everybody. I'm sure that whoever he fights is going to know, if he doesn't win which I'm pretty certain he has a good chance of winning, but if he doesn't I'm sure that whoever he fights will know they have been in a war.
Georgie's style is a little different, he's a boxing type. I spoke about it already but I'm sure there is nobody in the tournament he can't out point on the night.
It's just a matter of how the draw goes so we'll have to wait and see."
After Johnny had spoken it was the turn of his charges to give their opinion, 20 year old George Jupp was the first to speak, "It's not the best situation but being in this Prizefighter is something we both want.
In an ideal world we wouldn't meet until the final, but if we meet earlier there's nothing we can do about it. If it happens, it happens.
We're both gym friends and have sparred untold rounds together, so we know each other really well.
If we have to fight each other on the night we'll just shake hands and get on with it. It's something we have to do to further our careers"
Ian Bailey, who had sat nodding in agreement at as Johnny and George spoke, then added, "Obviously we're mates, it wouldn't be nice for either of us to knock the other guy out of the tournament.
But like Johnny said, hopefully we'll meet in the final rather than early on. But if we meet early on that's OK. We don't hold back in sparring, we've beaten the sh*t out of each other in sparring before so it'll be the same on the night and we'll shake hands afterwards."
Ian Bailey and 'Saint' George Jupp will be joining two time World Champ Choi Tseveenpurev, Irish Champ Mickey Coveney, Lee Glover, Troy James, Rhys Roberts and Lee Jennings in Prizefighter – Featherweights, which takes place at the York Hall, Bethnal Green, London on Saturday 29th October 2011 and will also be broadcast live on Skysports.
Tickets, priced £35 (standard seated) and £60 (ringside), for Prizefighter – Featherweights are available now, either on-line at www.tkoboxoffice.com or in person at the TRAD TKO Boxing Gym, Gillian House, Stephenson Street, Canning Town, London E16 4SA – for further information call 07960 850645.
Discuss this topic in the NowBoxing Forums (Membership is FREE)