n June this year the Malta Boxing Commission became the official professional boxing sanctioning organisation for the Republic of Malta. Shortly after becoming affiliated with the European Boxing Union the MBC President, Alexander Zammit, expressed his desire to help aspiring Maltese pro boxers, by organising exchange programmes with overseas coaches and gyms
In August British coach Barry Smith – who trains boxers such as Southern Area Cruiserweight Champion Leon 'Solid' Williams, IBO International Lightweight title contender Michael Grant, World ranked Dutch Cruiserweight Mitchell Balker and fellow MBC licensed pro boxer Marianne Marston, amongst others – spent ten days in Malta coaching various of the local boxers at Edwin Micallef's gym in Msida.
Last week Clayton Vella, one of the first boxers to be licensed by the Malta Boxing Commission, traveled to the UK for a training camp with Barry and Johnny Eames at the World famous fight factory, The TRAD TKO Boxing Gym in Canning Town, London.
TRAD TKO has historically been the home to some of the UK's biggest names, such as Champions Kevin Lear, Graham Earl, Tony Oakey, Matthew Marsh, Ian Napa, Ross Minter etc. and today is filled with stars such as WBO Inter-Continental Lightweight Champion Kevin Mitchell, WBO Inter-Continental Light Welterweight Champion Frankie Gavin, former IBO Lightweight World Champion Colin Lynes as well as many future domestic and World Champions including the aforementioned Leon Williams, Michael Grant and Mitchell Balker as well as former Olympian Billy Joe Saunders.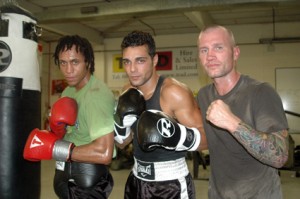 No surprise then that Clayton, who prior to turning professional was unbeaten on the unsanctioned fight circuit, initially found both training at the TKO as well as London itself, with it's eleven million inhabitants, a daunting experience, as was clear when he spoke about the trip following his final training session. "At first I found it very different, now I'm used to it and don't want to leave.
I've made lots of friends here, everyone has been very nice to me.
Barry is one of the best coaches around, I wish I could take him back to train me in Malta all the time, and the TKO gym is the best gym I've ever seen, our gym is about half the size.
They really take care of you too. Johnny and Jimmy (Tibbs) were really friendly, they helped me a lot and gave me advice.
So are the boxers I trained with, real stars,Frankie, Billy Joe, Leon, everyone did, everyone was so nice and helped me.
It was a good experience and I watched and learned from them, which is what I came to do.
Sparring was good, they are all good boxers and I learned a lot from them. I first sparred Duncan Cottier, he's very experienced, 60 fights I think. I sparred Brett O'Callaghan, he's only 19, he's very good and unbeaten.
On my last day I spar with Italian boxer Federico Tavares, he's very good, he spars former World Champions like Colin Lynes all the time. He's very tough and hard to hit. I also spar with Duncan again. It was hard, technical sparring and it really helped me a lot.
It was a very good experience and I learned a lot, now I'm ready and want to fight."