By Evan Chan
Boxing Cinema is honored to have Canadian boxing legend George Chuvalo for an interview where he talks about his career, his thoughts on professional boxing, and his mission to help keep people away from drugs.
Evan Chan: George when did you first gain an interest in boxing?
George Chuvalo: My initial interest in boxing started at age 7 when I went into a convenience store called 'Morgan's Cigar Store' in a Toronto area called the Junction, where I lived. A copy of 'Ring Magazine' – The Bible of Boxing – was on the magazine rack. I peeked inside and saw all these muscular guys fighting and thought, "That's for me!". So, I went home and asked my mom for some boxing gloves.
EC: You have 93 professional fights to your record, and you've never been knocked down before which is extremely admirable considering the fact that you fought Muhammad Ali, Joe Frazier, and George Foreman. What do you feel contributed to your legendary toughness?
GC: I think my physicality enabled me to be better at certain things. For example, a fast runner may have longer calves and this attribute will help him succeed. What helped me a lot is the fact that I have a very short neck. If I had a neck like a stack of dimes, you can bet I couldn't take a good shot. But the fact that I had a short neck and worked on it a lot (as opposed to most fighters who don't work on their neck muscles) definitely helped. I would stand on my head against a wall and move my head back and forth, side to side, for half an hour or so while talking on the phone. This strengthened my
shoulder and girdle area. I also chewed a lot of bubblegum and that helped develop my jaw muscles, which stood out prominently when I was younger. There could be unknown factors as well, but I attribute these physical qualities to my toughness.
EC: What are your thoughts on the heavyweight division today compared to the era in which you fought?
GC: There are two major differences: the fighters today are bigger and they don't throw as much punches. The fact is that they're boring to watch fighters like Ali, Frazier, Foreman, Holmes, Tyson, Holyfield are all exciting to watch. They came to fight and they threw a lot of punches. But the fighters today are lack-lustre. Boxing needs an American heavyweight who the press can follow through the rankings to the point of champion. You don't hear about champion fights today and today's heavyweights don't really have personality.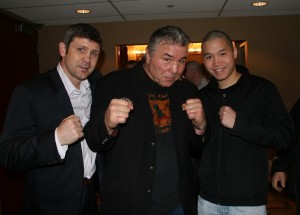 EC: Throughout your career there were times when you were fighting once a month. Do you feel that boxers today aren't taking on enough fights for them to gain enough experience to reach their full potential?
GC: I think you reach your full potential by fighting often enough against varied types of opponents. This makes you a complete fighter. There aren't enough fights because there aren't enough fighters in the mix. That's the problem. Archie Moore had 257 fights! Guys today retire after 35 fights who are champions of the world. There's a helluva difference. Henry Armstrong fought three championship fights within three weeks!
EC: Out of all your opponents who hit the hardest?
GC: Mike DeJohn and George Foreman.
EC: Do you have a favourite fighter from today's list of boxers?
GC: Pacquiao and Mayweather.
EC: Aside from your boxing career, you have also taken on several movie roles. Do you have any projects lined up in the near future?
GC: I have various television appearances and some film spots in the works but nothing confirmed yet.
EC: What are some of your memories of working with Bob Saget on Dirty Work?
GC: He was a nice guy and was very funny, but most of my interaction on the set was with Gary Coleman and Ken Norton.
EC: Another thing that you are known for is your Fight Against Drugs (www.fightagainstdrugs.ca) mission. What was your motivation for starting that?
GC: My motivation has to do with what happened to my family. I want to help young people make important decisions at the most important time in their life. If I didn't do this, it would be like my kids died in vain. I want to help them make the right decisions. So many things we do as young people are things we have to live with as older people.
EC: Tell us some of the things you feel are necessary for people to avoid the temptation of drugs, and do you feel the government and school systems have done enough to keep young people away from that lifestyle?
GC: The happier you are, the more apt you are to make a prudent decision. A high sense of self-esteem is important. What lends to that? Doing well in school, work, the gym, etc. When you do well in school as a young person you can foresee a bountiful future for yourself. When you don't do well, the future you see is bleak. It's tough to find an honour student in trouble with the law. We have to feel that we're of value and we get that from people reacting to our prudence.
EC: You have long been an inspiration to me, and in my opinion you are the King of Perseverance for your ability to push through difficult times. What advice do you have for people facing their own dark obstacles in life?
GC: Face your problems head on. Do what you have to do to take care of it. Develop a good work ethic.
EC: Out of all your accomplishments, what do you want to be remembered for the most?
GC: That's a hard question. I don't want to be constantly associated with tragedy. I think I'd like to be associated with the idea of 'hope'.
EC: George thank you for taking the time to do this interview, and thanks again for signing my gloves. Is there anything you want to say to your fans in closing?
GC: I appreciate all my fans. I appreciate anybody who has asked me for an autograph, or has complimented me as a fighter. When I go to the Hall of Fame events, I'm always well received and respected. Who doesn't like that? I sure do!
Interview originally posted on www.boxingcinema.com Oct. 5th, 2010
Got an Opinion? Submit Your Articles and Press Releases to be posted on NowBoxing.com
*Please refrain from leaving any Racist, Profane or Derogatory comments*
Discuss this topic in the NowBoxing Forums (Membership is FREE)

is a documentary filmmaker who is also a contributor to Now Boxing. He produced and directed the short-documentary "The Sweet Science: The Boss", which started airing on The Fight Network in 2010, and recently finished his second boxing documentary on Canadian Light-Heavyweight Champion Junior "The Real Deal" Moar. Through one of his former boxing web-sites, he did interviews with various people in the fight game. His notable interviews include former UFC fighter Denis Kang, boxing icon George Foreman, filmmaker/boxer Uwe Boll (Bloodrayne, In the Name of the King, Postal), Canadian boxing legend George Chuvalo, as well as MMA personality Paul "The Mauler" Lazenby.