Universal Boxing Organization™ International Lightweight Champion Rances Barthelemy (14-0, 11 KOs) will not be in for an easy ride when he makes his first title-defense on February 3. "Kid Blast" will be taking on fellow undefeated Hylon Williams Jr. (15-0, 3 KOs) at the Texas Station Hotel & Casino in Las Vegas.
The fight will be promoted by Warriors Boxing and Sampson Boxing LLC, and televised live throughout the United States on ESPN2.
Rances Barthelemy won the UBO title last July when he beat Gerardo Robles on points at the Cosmopolitan of Las Vegas, and is coming off a knockout victory over Mexican Alejandro Barrera on the Lucian Bute-Glenn Johnson undercard in Quebec City, Canada in November.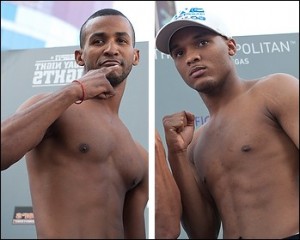 Managed by Henry Foster and promoted by Leon Margules/Warriors Boxing, the 25-year-old Cuban has proved to be one of the most exiting up-and-comers in the game, and in Hylon Williams Jr. he will face his biggest test since turning professional in August 2009.
21-year-old Hylon Williams Jr. will be challenging for his first professional title, and it's safe to say that on February 3 he will also be in with his best opponent so far. Originally from Houston, Williams has fought all over the US, even once in Puerto Rico, but just like Barthelemy he is now residing in Las Vegas, adding extra spice to an already mouthwatering match-up.
On the same card, appropriately billed SUPER BRAWLS, former world-title-challenger Edison Miranda (35-6, 30 KOs) will take on Isaac Chilemba (18-1-1, 9 KOs) at Light Heavyweight, and Russian Heavyweight sensation Magomed Abdusalamov (12-0, 12 KOs) clash with Cuban Pedro Rodriguez (8-0, 6 KOs).
More info on: www.uboboxing.com
The UBO is also on Twitter: www.twitter.com/UBOboxing
And Facebook: http://www.facebook.com/pages/Universal-Boxing-Organization-UBO/129022037171860