By Gianluca (Rio) Di Caro
This coming Friday WBO Inter-Continental Lightweight Champion Kevin Mitchell is set to face Spain based Felix Lora in a non-championship bout at the famous York Hall in Bethnal Green, London.
27 year old Mitchell returns to the ring for the first time since stopping John Murray in July last year at the Echo Arena in Liverpool and this fight is said to be a warm up ahead of a challenge for Ricky Burns' new acquired WBO World Lightweight crown.
With such an important bout waiting in the wings 'Mighty' Mitchell will surely be looking to impress in front his home crowd, in similar style to his utter destruction of arch rival John Murray last year.
Earlier today I caught up with Kevin at the pre-fight media workout at his home gym – the TRAD TKO Boxing Gym in Canning Town, London – to talk about the John Murray fight as well as the upcoming fight against Felix Lora and more.
But first, for those that have forgotten the Fight of the Year winning showdown at the Echo Arena in Liverpool back in July, when young guns Kevin Mitchell and John Murray had a true Western style shoot out, here is quick recap.
From the moment Dagenham gunslinger Mitchell confidently moseyed his way into the arena to the chants and jeers of Manchester's top gun Murray's fans it was clear that this was a very different 'Mighty' from the one that was gunned down big time by Aussie shootist Michael Katsidis last year.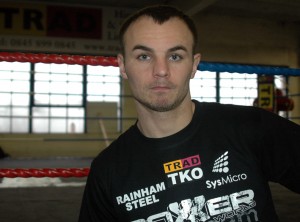 Mitchell's resolve and intent was obvious to all, no more was he willing to play second fiddle to Murray. Right from the off he dug into his fully loaded arsenal to let rip with a pin point accurate double handed flurry. Murray shrugged of the initial assault and walk the Londoner back onto the ropes before launching an equally vicious attack of his own.
Dipping and swaying Mitchell avoided virtually everything Murray threw at him before slickly stepping aside and letting rip with a series of punishing hooks to the body. The resilient Mancunian responded as only he can, standing his ground, absorbing each rib cracking shot and timing his counters to perfection, but Mitchell was more than just 'Mighty' he was already beginning to look magnificent as he secured the first round.
The second was another cracking round. Mitchell seemingly using his superior body work to slow the ever forward moving Murray, that is until about midway through when Murray lands one of his massive rights. Mitchell reels back to the ropes and yet another Murray double handed salvo rains down on the Londoner. A close round but Murray just about nicks this one in my book.
Right from the opening bell of the third Murray starts hunting down his quarry. Mitchell attempts to keep him at bay with crisp jabs but it just slows the raging bull down for a second or so. Mitchell dips back into his arsenal and pulled out a couple big powerful rights, only for Murray to respond with a double handed assault of his own. Moments later Mitchell turns the table and backs Murray onto the ropes and lets rip with a massive double handed salvo that sees out the round. It was another seriously closely fought round, but I felt Murray had just done enough to make it his own.
The fourth sees a good old fashioned toe-to-toe slug fest open up the proceedings. Murray launched big Bertha round, whilst Mitchell mixed it up and firing off a series of rocket powered uppercuts and hooks, to both body and head. In the dying seconds of the round Murray backed up the Londoner to the ropes again, Mitchell avoided everything Murray threw at him before sidestepping and turning the tables, backing Murray to the ropes, and launching a big double handed salvo until the final bell. No doubt in my mind the was 'Mighty' Mitchell's round one hundred percent.
Murray walks down Mitchell in the fifth, but this time instead of dipping and swaying his way out of trouble the Londoner responds with a series of three punch combination of uppercuts and hooks to the body which appear to have a major effect on Murray. Mitchell is quick to notice this and turns the heat up letting rip with wicked body shots, uppercuts and double handed salvos to the head which start to slow the ever advancing Murray. An easy round to call in Kevin's favour, but don't go thinking it was one way traffic, it wasn't.
The effects, to Murray's face, of the previous round were clear to everyone as he came out for the sixth, there were noticeable dark swellings under both eyes. Mitchell was quick to notice these and set his sights and let off a series of exocets to the head each time Murray came within range. A real ding dong battle ensued, Mitchell letting rip with hooks and big right hands whilst Murray responds with megaton bombs and short sharp rights to the side of Mitchell's head. What a round it was pugilistic heaven and far too close to call.
Round seven sees Murray charge like a raging bull closing down MItchell before launching a series of seriously hard jabs and big rights, Mitchell responds with yet more double handed exocets to the head. By mid round Murray's face is looking like a train wreck. In the dying seconds it looked like Murray was heading to Boot Hill, Mitchell lands a massive nuke that sends Murray reeling and rocking, but before 'Mighty' Mitch zoned in for the kill the bell tolled. Sure I don't have to say this was Mitchell's round.
Again Murray charges forward from the opening bell, but the moment he came into range Mitchell launched yet another exocet before moving in to let rip with a massive uppercut followed by big double rights, Murray responds in similar vein and an all out war ensues, which abruptly ends with a massive left hook that sends Murray face down to the canvas. Murray makes the count but Mitchell is on him in a flash and lets rip with another wicked combination that rocks Murray to the core and left the referee no option but to stop the fight after just one minute and forty six seconds of the round.
So there you go, that'll give you an idea of what to expect from our Kev on the 10th February, now let's hear what the man himself has to say.
Rio – Kevin, first things first. Congratulations, your magnificent battle with John Murray was named 2011 Fight of the Year by Boxing News and BoxRec, how do you feel about that?
Kevin – Thanks to the readers of Boxing News and BoxRec who voted for the fight. I'm so pleased that everyone enjoyed the fight, it's always an honour to be recognised for achieving something.
It was good to give my fans something to cheer for after the Katsidis fight.
Rio – The media as a whole showered accolades on you for your magnificent performance on the night, but how did you see the fight?
Kevin – I see it as a 50/50 fight.
After the beating by Michael Katsidis I wanted to put the record right – I watched that fight again last night, Katsidis did his job, I weren't right and I got beat.
Everyone was saying Kevin's finished, he got done in two rounds. Which wasn't a bad thing as it made me push harder. As of 2012 I'm going to push even harder as I want a World title.
Yeah, it was a terrific fight, but I always knew deep down that I'd beat him, I knew I'd be too much for him, too much difference, I can change things, I can fight, I can box, I can punch hard.
Rio – OK, back to this Friday's fight, even though it's a non-championship bout I know just how seriously you have been taking your training, you were even in the gym over Christmas and New Year – So just how do you feel training has gone.
Kevin – It's been going well, I'm bang on target for the fight this Friday.
I feel fit, did most of my sparring with Colin Lynes after some earlier rounds with Gary Corcoran, got my fitness up and then sparred with Colin and an Italian guy here called Freddie (Federico Tavares) helped me out.
Thanks to them, and of course Jimmy and Mark (Tibbs), I'm spot on for Friday.
Rio – Do you know much about your opponent Felix Lora?
Kevin – He's gonna be a tough guy for ten rounds, I know I'm able to put him away if I want to, but I'm not going in there and try and blast him out, I'm gonna go out there and get some rounds in, if I nail him I nail him but if I don't it'll be good to get the rounds in.
Rio – I know you never look past any opponent, but as the word is that after this there'll be a Summer showdown with Ricky Burns for his World title – What's your thoughts on this?
Kevin – I'll beat Burns and then I'll knock Brandon Rios out.
Rio – Rios has said that he's moving up to Light Welter – are you that determined to fight him that you'll move to Light Welter to fight him?
Kevin – Yeah, I'll move up if I have to, I want to fight him.
There's a lot of needle there, he's got a big mouth, he thinks he's a powerful man.
I don't care if he goes up a weight . I'll win the title at Lightweight, defend it a few times and then I'll go up to Light Welter and beat him up.
Rio – Sure is some needle there – OK, finally is there anything you would like to say to your fans?
Kevin – Thanks to all the fans that are going to turn up at York Hall on Friday, I promise you all a cracking fight.
Kevin Mitchell versus Felix Lora headlines the sold out Frank Warren Promotions event at York Hall, Bethnal Green, London, on Friday 10th February 2012 and broadcast live on BoxNation (Sky platform Channel 456 & Virgin 546).
(Photos and Interview By Gianluca (Rio) Di Caro)