FUEL TV PREMIERES UFC PRESENTS BENSON HENDERSON: RISING UP DEC. 5
Special Takes Never-Before-Seen Look at the UFC Lightweight Champion
LOS ANGELES, CA – FUEL TV is excited to announce the premiere of UFC PRESENTS BENSON HENDERSON: RISING UP on Wednesday, December 5 (11:00 PM ET). This one-hour special takes a look at the UFC Lightweight Champion's struggles and motivations that helped him become one of the best in the UFC.
In exclusive interviews with Henderson, his trainer John Crouch, his mother, his brother Julius Henderson, and girlfriend Maria Magana, each discuss the defining moment in Henderson's career: losing his WEC Lightweight Championship belt to Anthony Pettis in the last minute of the last WEC fight ever.
Henderson explains his transformation after the loss: "For me, it was a milestone. A catapult to get better. A lot of times some people face adversity and they have a tough loss. A close loss, and then they kind of go down. I think of some of the best champs- St-Pierre, Anderson Silva, a lot of NFL guys and NBA guys. They hit that and they get better from there. I want to be that guy. I used the Pettis fight [to become] a better fighter."
Since the heartbreaking loss to Pettis, there has been no looking back for Henderson. The fighter made his UFC debut at UFC 129 in April 2011 and won a three-round unanimous decision over Mark Bocek. He has been on a five-fight winning streak and successfully captured the UFC Lightweight Championship belt from Frankie Edgar at UFC 144 earlier this year.
"The most special things about Ben are his willpower and his heart," says Crouch in the show. "Those are things that you can't really teach people. It's just something either that you have or you don't have, and [Henderson] has it in spades. He's so mentally tough and man, you'll never break that kid."
When asked about the legacy he would like to leave, Henderson responds: "The best ever. Period. No ifs, ands, or buts about it. I want to be the best fighter ever."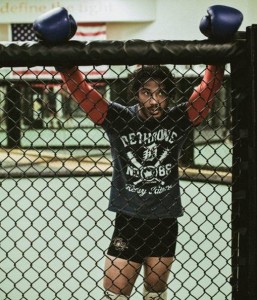 For a complete listing of FUEL TV shows, go to: http://www.fuel.tv/schedule. For more information, go to www.fuel.tv/ufc and on Facebook at: www.facebook.com/fueltv. Follow on Twitter at: @FUELTV
To get FUEL TV on your television, go to www.fuel.tv/getfueltv, or call 877-4 FUEL-TV.
FUEL TV
FUEL TV is the only cable and satellite television network that features the exciting world of adrenaline and thrill-seeking sports as well as high energy entertainment programming. This includes UFC, surfing, motocross, BMX and more. With more hours of UFC coverage than any other network, FUEL TV is the ultimate destination for live fights, weigh-ins, prelims, pre- and postfight coverage, results and more. This new generation of sports provides a rich landscape of some of the most vibrant and action-packed television entertainment in the world. See why adrenaline sports fans call FUEL TV the channel they never turn off. FUEL TV, part of FOX Sports Media Group, was launched July 1, 2003 and is seen in more than 36 million U.S. homes and can be accessed by broadband, mobile devices and other digital platforms such as iTunes®. FUEL TV programming is available in more than 50 countries around the world with 24/7 channels operating in Australia and Europe. To subscribe to FUEL TV, call 877-4 FUEL-TV. For program times and other information, visit www.fuel.tv.
FOX Sports Media Group
FOX Sports Media Group (FSMG) is the umbrella entity representing News Corporation's wide array of multi-platform US-based sports assets. Built with brands capable of reaching more than 100 million viewers in a single weekend, FSMG includes ownership and interests in linear television networks, digital and mobile programming, broadband platforms, multiple web sites, joint-venture businesses and several licensing partnerships. FSMG includes FOX Sports, the sports television arm of the FOX Broadcasting Company; Fox's 20 regional sports networks, their affiliated regional web sites and FSN national programming; SPEED and SPEED2; FOX Soccer, FOX Soccer Plus and FOX Soccer 2Go; FUEL TV; FOX Deportes and FOX College Sports. In addition, FSMG also encompasses FOX Sports Interactive Media, which includes FOXSports.com on MSN, Whatifsports.com Scout.com and Yardbarker.com. Also included in the Group are Fox's interests in joint-venture businesses Big Ten Network, BTN 2Go and STATS, LLC, as well as licensing agreements that establish the FOX Sports Radio Network and FOX Sports Skybox restaurants.
Got an Opinion? Submit Your Articles and Press Releases to be posted on NowBoxing.com
*Please refrain from leaving any Racist, Profane or Derogatory comments*