Robert,
I wanted to send you my sincere congratulations for your very impressive TKO victory over Arthur Abraham on Saturday in Germany. You dominated Abraham with your power and skill, you rightly deserve to be the WBO Super Middleweight Championship of the World. I am sure it feels great to exact revenge for the loss you suffered to Abraham last year. I would like to offer you yet another chance to avenge a loss.
It was exactly 5 years ago almost to the day that I defeated you in California in an IBF Super Middleweight title eliminator. Like you did with Arthur today, I dominated that fight against you before the referee stopped the fight in round 8. I am sure that loss has always haunted you and I would like to offer you a chance for revenge.
As you know, my management team has presented you and your team this offer to fight me in a rematch multiple times but you have always refused to fight me again. I do not know the answer as to why you turned the offer down…but you do.
You are a great world class fighter worthy of the belt you won today, this is a great victory for you and your team. Now it's time to defend your belt and I suggest a great way to start your title run is by attempting to avenge your loss to me. I will be happy to come to your country to fight you in front of your fans just like you did with me 5 years ago. You know who my promotional team and management team are and you know how to contact them. I hope you will give them a call and tell them you accept my offer.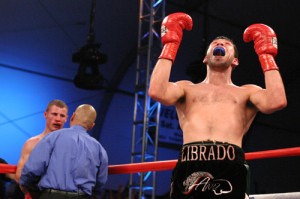 Sincerely,
Librado Andrade