Boxing Fans,
Hang me in effigy if so inclined. This column is late due to computer glitches that literally destroyed two columns. RIP!
Less than 8 hours after Nonito Donaire lost his WBO Super Bantamweight title to Gullermo Rigondeaux,rampant rumors suggested Rigondeaux failed a post fight drug test and therefore would face a suspension and forfeit the title he won from Donaire on 5/13 at Radio City Music Hall in New York City. After spending a few hours trying to track down the rumors, I decided to call Donaire's manager Cameron Dunkin who didn't respond. Then I called the New York City Athletic Commission and tried to talk to Edison Alban in the Public Relations Department. He wasn't there,but I did leave my information with an assistant who promised to pass on my request to Edison. After making the call, I sent a formal request asking for results of the drug test. If either party fails the test,the bout will be ruled as a "no contest" and the fighter who failed the test will be placed on suspension and fined heavily. New York administers a very stringent test and anything and everything is detected or so I'm told. A number of fighters aren't able or don't even try to fight to fight in New York because the state requires a very tough physical before a boxing license is issued.
While waiting for NY to respond, Laz Benitez, PIO, New York Department of State, sent an email asking me to forward specific questions, so I did. New York is good about responding quickly. His response came 20 minutes after I emailed him. The official test results will be in toward the end of April and readers will know when I know. In this day and age of social media, readers may inform me.
I mentioned placing a call to Cameron Dunkin. The reason was two fold. My second reason for touching base with him was to chat about his signing of 17 year old Arizona boxing prospect Alexis Zazueta who recently won a 114 lb division title at the Regional Finals in Nevada. The win qualifies him for the Nationals in Salt Lake City Utah In May. Alfonso Olvera, another Arizona amateur, also made it to the finals in Salt Lake. A win for both men would be huge.
Alexis has fought in state and national tournaments shows and I have watched some of his You Tube footage. Gook looking fighter with some pop in his right hand. He has all of the intangibles, good attitude, strong work ethic and an ear for listening. Based on what I have seen, my report on his is excellent and he should make a solid professional. I was calling Cameron to ask him if he was going to allow Alexis to box in the Golden Gloves National. There is always danger of an injury and for that reason, Alexis might be pulled from the Golden Gloves competition. Hopefull, Cameron or Zazuets Trainer Armondo Lopez will lift the phone and relay the decision. I always wondered why boxing didn't pick up Pepto Bismo as a sponsor. Cameron also manages Victor Ortiz, Kelly Pavlik and many more. Dunkin is a perennial candidate for Fight manager of the year and boxers swear to his loyalty. So, he isn't a sharp dressed man, but who cares?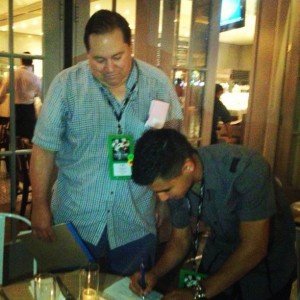 Iron Boy 7: Featherweight Guy Robb has replaced Joel Diaz on the May 17 Iron Boy 7 show at the Celebrity Theatre in Phoenix, Arizona. Diaz opted out for a spot on an upcoming ESPN Card which is understandable. Matchmaker Mike Sanchez hopes to present Diaz on a future Iron Boy Card. Robb is 10-1 and will fight a yet to be be determined opponent in a scheduled for 6 round event. Vido Carbajal, Nephew of the 5 time world champ, has replaced Tim Riddell on the card and will face Wilber Lopez in a 4 round amateur contest. Other fighters in the card include: Carlos Castro, Juan Garcia, Chris Lopez, Duardo Valenzuela and Pancho C. De Vaca aka Francisco C De Vaca. Pancho was scheduled to make his debut on the last Iron Boy card, but his opponent failed to make weight. The kid can fight, so let's hope his debut happens this time around. Oh yes, Isiah McFadden will not be on the May 17 because of the uncertainty of his contract with Fan Base Promotions. McFadden thinks his contract with Fan Base has expire, but, Sanchez say the legal uncertainty surrounding his status isn't worth the a possible long and expensive legal hassle.
Sanchez, speaking on behalf of Iron Boy, told me the Iron Boy boxing show philosophy is to present the best of Arizona prospects and occasionally showcase a young rising star from outside the Grand Canyon state. That was the intent with Diaz.Sanchez also disclosed he is looking for Middleweights and up to give the card a more divisional balance on the future Iron Boy Cards.Iron Boy hoped to sign Heavyweight Michael Hunter for their May 17 show,but it isn't going to happen. In other Iron Boy news, veteran featherweight Orlando Salido is working out at the Iron Boy Gym in South Phoenix. Salido, 39-12-2 may move to Arizona according to a close source.
Boxing News: The world boxing community mourns the loss of former heavyweight contender of Carl "The Truth" Williams who passed away at age 53 recently from cancer of the throat. Williams has been described as a poor man's Muhammad Ali. May be a reach, but he was a very good fighter who unfortunately foughtin the same era as Larry Holmes and Mike Tyson….Victor Ortiz is the fifth pugilist to enter ABC Network's "Dancing With The Stars" reality show. Expectthe former champ to be eliminated, soon….Highly touted Mario Esparza (1320 hopes to make his professional debut in May. In the meantime, the youngster is sparring with Juan Garcia and Fernando Samaniego at Grant Park Gym under the watchful eye of is trainer, Tom Garcia. Mario is a good kid and talented prospect… Central Gym protegee Daniel Garcia turned 17 on May 17 and will make his professional debut in Las Vegas sometime in August. Happy Birthday and good luck. Daniel can punch and the lad is definitely a top 10 prospect…..Alfonso Olvera won the western Regional Golden Gloves title now he will pursue the National Crown in May in Salt Lake City, Utah. If he wins, according to his Neutral Corner boxing coach Brad Carlton, the young family man who has only 1 amateur loss will turn pro. He is a good defensive pugilist with a strong right hand. and a winning attitude… 16 year old Phoenix amateur standout Alexis Urbina won the USA Boxing Youth National Title in the 141 pound division in Spokane Washington, recently. . He is trained by Brother In Law Andrew Sotowho also works with Mrs. Andrew Soto, Sulem Urbina Soto, a highly talented boxer, hopes to qualify for Mexico's Olympic Team in 2016…..Local amateur standout Edgar Brito may turn professional in May…. …Tolugh Diamond Baier lost to Detroit prospect Erick De Leon (Top Rank) in New York at Rock City Music Music Hall on April 13. His record is 2-5-1; however, all of his professional fights were against winning fighters with a combined 67-4 record when they met Baier who didn't turn pro until he was 32. Baier and his manager, Tom Garcia have nothing to be ashamed of. Before the boxing gentleman headed for New York, I talked to him at length and his story will be in my next column…..Light Welterweight sensation Jose Benavidez Jr. is still sporting a soft cast to protect his injured hand but that doesn't stop him from working soup kitchens and lending his heart and soul to worthy causes. Jose and 5 time world champion Michael Carbajal are expected to attend "Night of Miracles, a fundraiser for Breast Cancer at the Comerica Theatre in Phoenix on May 4. Call 602-379-2888 for tickets. 30-40 current and former athletes are planning to attend..Doors open at 6 p.m.
Two Salutes: Former two time welterweight champion Curtis Cokes celebrates his 76th Birthday on June 15. He lives in Dallas Texas and you can be a part of his celebration by sending him a card to: Curtis Cokes, 618 Calcutta, Dallas Texas, 75241….Our second salutes goes to boxing fans Krystal V. Iglesia and Lumer Ryanyl O Agot. The sweet hearts will wed on May 27 at the Historical Central United Methodist Church in Phoenix, Arizona. Their wedding preamble is taken from the scripture: 1 Corinthians 13:4-7. May you find happiness…Until Next Time!