By Richard Vallejo
When Floyd "Money" Mayweather 44-0 26 ko's steps into the ring vs Saul "Canelo" Alvarez 42-0-1 30 ko's September 14, 2013 Saturday night at the MGM in Las Vegas, it's all on the line, his highly guarded unblemished record, the mythical pound for pound title, and a legacy.
I begin my breakdown with the 152 agreed upon catch weight. Never a fan of catch weight fights, I believe this one favors Mayweather, as Canelo is in all actuality a full fledged super middleweight. Canelo is known for blowing up an additional 15-20 lbs within the 24 hrs after the mandatory weigh –in to somewhere in the neighborhood of 170 lbs. For this fight, finding a way to shred an additional 2 pounds is going to hurt Canelo more than help him. Many people believe that you can lose 2 pounds easy, and yes for the average person that is a true statement, but for a world class athlete with 5% body fat, its 2 pounds of muscle that will be shed, which is obviously a disadvantage as it is outrageous to believe that somehow losing 2 pounds of muscle is a good thing in a prizefight.
Canelo has been quoted as saying that he believes that he doesn't need a knockout to win the fight, he believes he possesses the boxing ability to beat Mayweather, and that he will attack the body instead of the head. To me, the only way I see Canelo having a chance in this fight is by an early round KO, so by saying he will box, to me he is giving up his only chance to win. I say early round KO because it is well known and often quoted by Mayweather himself that he does not watch past fights of his upcoming opponents, because he prefers to adjust and adapt during the fight. This leaves Mayweather susceptible and open to getting hit early in his fights. Zab Judah had early success vs him in which I believe he won 3 of their first 4 rounds, Ricky Hatton also had early success hitting Mayweather as did Shane Mosley in which he almost knocked Mayweather out early in their fight. It's very evident that he does not in fact watch tape or study film as he is often referred to as a slow starter in fights. Canelo has to take advantage of this early, because like I stated before, Floyd is a master at adapting in between and during rounds. If you land once on him, chances are you will not land that particular punch again, so you have to make it count. Making the first 1-3 rounds Canelo's best chance to win the fight.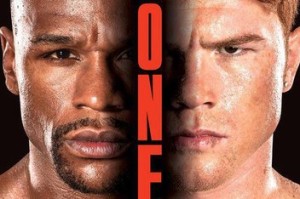 Once out of the early rounds, the way I see the fight unfolding is with Floyd Mayweather sticking and moving. With Canelo being the heavier puncher of the two, it is well known that in order to offset a fighter's power, you have to keep him either on his toes or on his heels, never allowing him to plant his feet, which is where power for a punch is generated.
If Floyd can stay in the center of the ring and use lateral movement by sticking and moving, Canelo will be forced to chase him, ultimately cutting down on his power punches thrown, and taking away his only advantage. Canelo will then be forced to throw most of his punches without his feet being set, causing him to throw arm punches, and never allowing him to sit on his punches from the bottom, which he likes to do.
Casual boxing fans, for the most part do not understand this, they will profess that Mayweather is running, but that is boxing, that is the sweet science, and that is also what separates good from great. I believe this is the Mayweather defensive plan, which also serves purpose in another area that I believe hurts Canelo, his conditioning. It's a well known fact that his cardio is not the best in the sport this is due to his stocky body type. Canelo is a lot bulkier than a traditional boxer's lean body. With a 1 inch height advantage over Floyd, it's a rather surprising fact that as the taller man, he actually has a 2 inch reach disadvantage. (Mayweather 72 inch reach, Canelo 70 inch reach) When you add Canelo's bulky frame with smaller than average limbs, your lactic acid, the main cause of fatigue, builds up faster in your muscles than that of a leaner boxer's body. I believe this to be the source of Canelo's cardio problem. It becomes an even bigger problem when the man standing on the opposite side of the ring is Floyd Mayweather, as it is often touted, with very little disagreement, that his conditioning is the best in the business. He's the only known boxer that stays in fighting shape year round, never being within 5 pounds of his fighting weight. He's a throwback fighter in the sense that in training camp, he often spars over 20 rds straight in preparation for a 12 rd fight.
Train hard, win easy. When I look at the few fighters that have had success vs Mayweather such as Jose Luis Castillo, Zab Judah, Oscar De La Hoya and Miguel Cotto, the one thing that seemed to bother Floyd was their ability to fight on the inside effectively. With the power that Canelo possesses, I highly doubt that Floyd gives him the opportunity to trade on the inside as he did them, as none of those fighters had the KO power of Alvarez. I wouldn't be surprised to see Canelo land a few shots on Mayweather that gets the crowd going, but by the mid rounds, I see a puzzled Canelo Alvarez frustrated with the ever elusive Mayweather.
If this is in fact how the fight plays out, Canelo's chances of winning decreases by each passing round. While not known for by any means as being a power puncher, Floyd uses timing to punch effectively and land in the same area over and over. If he can land over the duration of the fight with his well known accuracy, it could take a toll on Canelo down the stretch, and when added with declining cardio, the waters could get very deep for the less experienced Canelo Alvarez. My prediction? Floyd Mayweather jr by TKO in the 11th round.