Tacoma, WA (September 30th, 2013) – Halquist Productions is returning to the Emerald Queen Casino this Saturday with the Northwest's premier MMA promotion, CageSport. Headlining the 10 fight professional MMA card will be Lacey's Harrison Bevens (6-1) taking on Enumclaw's Justin Harrington 5-0) for the CageSport lightweight title. In the semi-main event, StrikeForce veteran, Cory Devela (8-5) will look to make his comeback to the sport in a match up with Everett's Byron Sutton (7-3).
A limited amount of tickets are still available for CageSport XXVII and can be purchased at the Emerald Queen Casino box office or through Ticketmaster. Prices start at $35. Northwest fight fans are encouraged to get their tickets early as the showroom is expected to be sold out.
In what will be the toughest fight of each fighter's career so far, Bevens and Harrington are gearing up for their first five round battle due to the title being on the line. Chances are though is this fight may not take all five rounds to decide who the winner is as the combined record between the two is 11-1 with ten of those victories being finished before time is up.
Bevens who trains out of The Academy of Brian Johnson in Lacey is coming off one of the most exciting finishes of his career. In front of a sold out CageSport XXVI card in August, Bevens took a close fight into the third round where he then landed a stunning knockout to end the fight and ultimately give him a shot at the title.
"Justin is a tough opponent and I'm a tougher fight for him than anyone else," said Bevens, when asked about his upcoming title fight. "I can't wait for this. It's going to be two bulls going at it."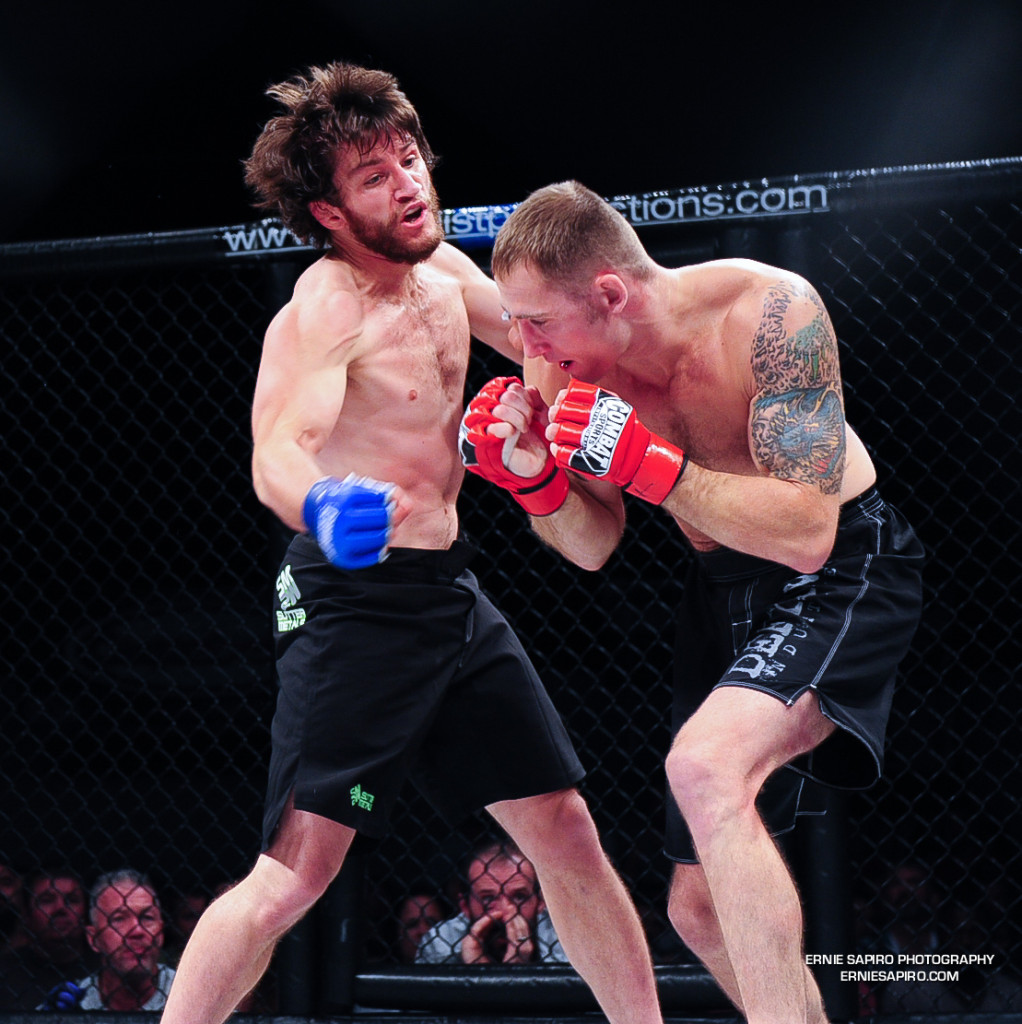 Harrington, training out of Jeff Hougland's Combat Sport and Fitness in Enumclaw, is coming off a just as impressive victory at CageSport XXVI. After starting off his professional career with two knockout victories, Harrington has finished his last three fights via first round submission; including his victory over Levi Peaslee with an arm triangle choke 1:36 into the first round at CageSport XXVI
Cory Devela, training with Dennis Hallman at his gym in Lakewood, last stepped into the cage in 2010 in what turned into his third consecutive loss fighting for StrikeForce. He'll be looking to right the ship and strive once again to catch national MMA attention.
The undercard seen below features a thundering lineup full of local Northwest fighters:
Josh Solis (2-0) vs. Ricky Satterwhite(debut) at 155+1
Hadley Griffith (1-0) vs. Amy Cadwell (debut) at 125+1
Trent Tyler (0-1) vs. Steve Simpson (0-1) at 185+1
Emanuel Russell (2-0) vs. Chaz Gurule (1-1) at 140+1
Hector Lopez (1-0) vs. Soloman Jones (1-1) at 125+1
Dex Montenegro (2-1) vs. Jorge Alba (0-1) at 145+1
Rob Cann (debut) vs. Dylan Morgan (debut) at 145+1
Tyson Cunningham (debut) vs. Kyle Maloney (debut) at 170+1
Doors for CageSport XXVII open at 6 PM with the first fight scheduled for 7 PM. Halquist Productions' CageSport MMA continues to be the leading MMA promotion in the northwest, featuring all pro cards, and the most talented fighters in the region. Fighters such as: Miesha Tate, Bryan Caraway, Sam Sicilia, and Michael Chiesa have all fought on previous CageSport cards on their way to the UFC where they are still currently fighting. For more information about CageSport XXVII and all other Halquist Production events, please visit www.halquistproductions.com and the official Facebook and Twitter Pages of CageSport MMA and Battle at the Boat.