By Jordan "Black and Blue" Keller
The tape can't measure what's on the line Saturday night between Philadelphia's Danny "Swift" Garcia and Argentina's heavy handed Lucas "The Machine" Matthysse but all the ingredients are there for a blockbuster fight that would be a main event any other place or time had it not been scheduled for the Mayweather vs Canelo Alvarez WBC / WBA Super World Light Middleweight fight card.
While both Garcia and Matthysse carry rep's of their own, they have certainly been banked second shelf in this case but I believe it has all the properties to become the fight of the night.
Let's assume. I know but lets do it anyway. Garcia is undefeated and is the current WBC Light Welterweight Champion while Matthysse stopping 32 of 34 opponents with about an 86% KO rating the popular Argentine favorite looms the heavy favorite but the facts just somehow add up for a very different entertaining bout.
With the only one common opponent, former six time two division world champion Zab Judah the comparison stops there. Matthysse floored Judah in their bout only to drop a controversial split decision to the former champion November 2010. Garcia on the other hand lacking one punch capability won a convincing twelve round unanimous decision flooring Judah in the eight round on the way to a convincing unanimous decision in his last outing in April.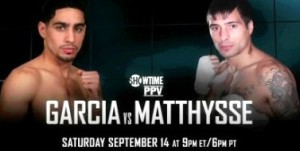 Danny "Swift" Garcia
About the only negative you can find with Danny Garcia is when his father / trainer Angel starts ranting. Otherwise Garcia who comes from a very prestigious amateur background compiling a record of 107-13 having won several titles including a 2005 Under-19 National Championship and 2006 U.S. National Championship has purposely developed into a skilled champion winning his twenty six pro bouts including three title defenses over named opposition.
Lucas Matthysse
"The Machine" also an amateur standout fought for Argentina in the 2003 Pan American Games stopping Colombia's Khanqueror" Breidis Prescott in the first round. The young Matthysse also met fellow countryman and future WBA World Light Welterweight Champion Marcos Maidana four times in the amateurs with winning three of the four and the fourth fight being a draw.
Lucas the younger brother of Walter Dario Matthysse also a pro fighter coincidently or not was also a notorious puncher winning 24 of his first 25 bouts by KO until coming top the US and stepping up in competition and running into Paul Williams, who stopped him in ten. Walter would go 1-5 in his last six before retiring.
Lucas following that same early track fighting mostly in Argentina has demonstrated that same K power
recording 27 straight victories with 25 coming by way of KO with his only losses like his brother coming after reaching the US when despite putting both fighters down lost controversial split decisions to Zab Judah in 2010 and against Devon Alexander 2011.
No matter where you stand on Matthysee two controversial split decision losses the second coming June 2011 to Devon Alexander Matthysse returned to his knockout ways banking stoppages of Sergio Omar Priotti, Angel Martinez, Humberto Soto, Olusegun Ajose, Mike Dallas Jr. and Lamont Peterson.
In his last fight in May against Lamont Peterson, "The Machine" inundated Peterson with unrelenting pressure knock down the once beaten Peterson three times enroute to a third round TKO win.
My Pick
In the end you can't argue with Matthysse punching power but there is just something about Garcia's skill together with his uncanny poise and growing confidence that has allowed him to grow as a fighter remaining unbeaten while always stepping up in competition and seemingly just what it takes to record wins over veterans Nate Campbell, Kendall Holt, Amir Khan, Erik Morales (twice) and Zab Judah.
Her at www.strictlybusinessboxing.com I'm going to follow my gut and pick Garcia the boxer by a split decision after suffering an early trip to the canvas delegating Matthysse to the role of gate keeper in the realm of his countryman Marcos Maidana.