The Ultimate Fighting Championship celebrates its 20th anniversary with a stacked UFC 167 Pay-Per-View event, the main event has UFC welterweight champion Georges St-Pierre in against hard hitting Johny Hendricks, former light heavyweight champion Rashad Evans will face the notorious Chael Sonnen, Canadian phenom Rory MacDonald will square off against the heavy handed Robbie Lawler in a welterweight bout, and welterweights Josh Koscheck and Tyron Woodley will meet at UFC 167 in Las Vegas, Nevada on November 16, 2013.
GSP is considered the best mixed martial artist in the world, and hasn't lost a fight since 2007 when he was stopped by Matt Serra in a shocking upset loss. St-Pierre later avenged that defeat and has been on a long winning streak with many successful title defenses. Hendricks believes he is the man to stop the GSP train and wants to prove his worth on Saturday night by defeating St-Pierre in impression fashion and capturing the UFC welterweight championship in the process.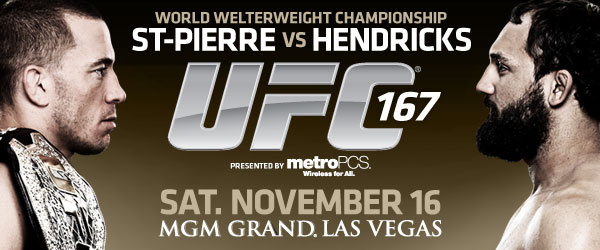 UFC 167 YouTube Live Stream Fight Card
Welterweight Championship Main Event: Georges St-Pierre (Champion) vs. Johny Hendricks
Light Heavyweight: Rashad Evans vs. Chael Sonnen
Welterweight: Rory MacDonald vs. Robbie Lawler
Welterweight: Josh Koscheck vs. Tyron Woodley
Flyweight: Tim Elliott vs. Ali Bagautinov
Watch the UFC 167 Georges St-Pierre vs. Johny Hendricks Pay-Per-View live streaming YouTube video feed at youtube.com/UFC on Nov 16 at 10/7 PM ET/PT.