HBO World Championship Boxing heads to the Citizens Business Bank Arena in Ontario, California to broadcast the Andre Ward vs. Edwin Rodriguez WBA super middleweight title bout on Nov. 16.
Andre Ward (26-0, 14 KOs) is the last boxer to represent the United States of America and secure a gold medal at the Olympic games, and currently holds the WBA super middleweight title. Still undefeated, Ward has been compared to the likes of Floyd Mayweather Jr. who still holds the title pound for pound best fighter to day, but ward is a close second on the list in many boxing analysts minds. He will defend his belt against fellow undefeated fighter Edwin Rodriguez (24-0, 16 KOs), the fight nearly was called off because Rodriguez failed to make the 168 wight limit, he was punished and gave up a portion of his purse to be split between Ward and the California Athletic Commission. Ward allowed the fight to go through on the condition that Rodriguez way no more than 180 pounds on fight day. If Rodriguez beats Ward he can no longer win the WBA belt which was his punishment for failing to make the contracted weight limit, win or lose Ward will retain his title.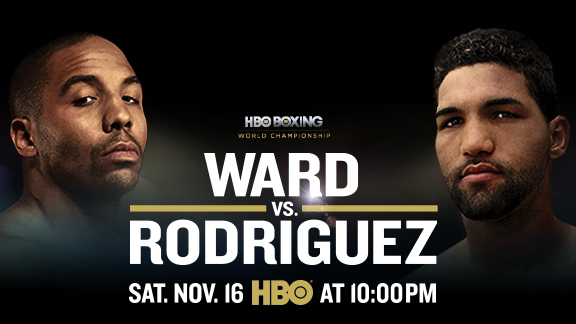 Watch Andre Ward vs. Edwin Rodriguez live November 16 at 10:00 PM ET/PT on HBO.