Undefeated World Welterweight champion Kell Brook will try and make history on September 10 by jumping up two weight divisions to fight for the Middleweight championship of the world against unbeaten champion Gennady Golovkin.
The Golovkin vs. Brook event will be live streamed in Britain on Sky Sports Box Office and showing Stateside on HBO World Championship Boxing for US viewers at 5:30 PM ET/PT.
The most avoided Middleweight champion has tried to chase down other title holders in his division to no avail, but one man willing to risk it all to challenge the Kazakhstan born power puncher, is not even a Middleweight he is a 147-pound champion, and his name is Kell Brook.
A lot of boxing people consider this a mismatch comparable to the Canelo Alvarez vs. Amir Khan fight, with Khan a former lightweight getting knocked out cold by the much bigger fighter. It's a daring move on both Khan and Brook, but Canelo and Golovkin have been criticized for fighting men who fight at a lighter weight class instead of moving up to fight bigger men.
Should Golovkin win it doesn't really mean munch in terms of resume beating a Welterweight who came up to 160 pounds. Brook on the other hand has everything to gain win or lose, if he loses he still has his Welterweight championship and can go back down in weight to defend it, if he loses he stakes a claim at the pound for pound top spot, and solidifies himself in boxing history by pulling off one o the most impressive feats in boxing, by beating a prime unbeaten feared champion at his weight class for his first fight in the division.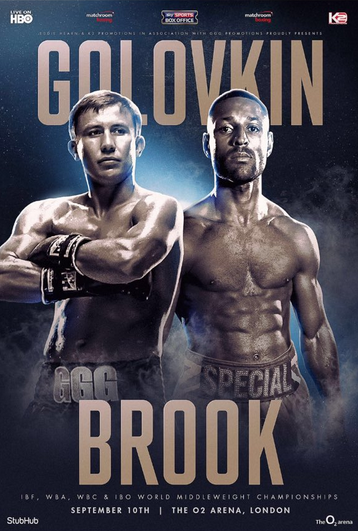 British boxing fans can watch Gennady Golovkin vs Kell Brook lie on Sky Sports Box Office streaming video service, for more information www.skysports.com/watch