Manny Pacquiao and Freddie Roach are one of the greatest Fighter/Trainer duos in the history of boxing, but all good things must come to an end and it seems like Pacquiao is giving his long time coach the cold shoulder.
Freddie Roach told the LA Times that he called his famed pupil 5 times and no answer.
We know that Pacquiao is a busy full time politician in the Philippines and maybe Roach is overreacting and reading too much into this, but calling 5 times with no answer or return does sound suspicious.
Roach also suggested maybe Pacquiao just changed his number and never gave him the new one.
If the team has come to an end it will be a sad end to a beautiful boxing story.
Roach was the only American coach who saw something special in Pacquiao, after being rejected by several trainers and promoters he landed at the Wild Card Boxing club in Hollywood, California, his last stop and hit the mitts with Roach impressing him with his speed and power.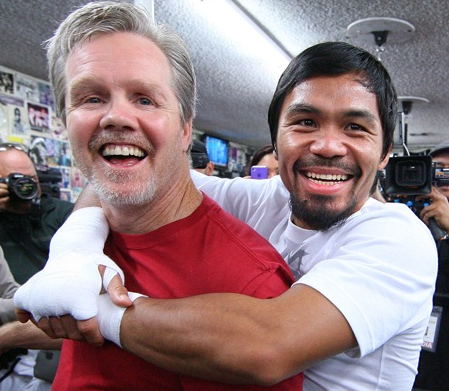 Their very first fight together on American soil was a championship fight on HBO against IBF super bantamweight champ Lehlo Ledwaba and they captured their first world championship together at 122 pounds and from there on they climbed the weight divisions collecting titles and destroying some of the biggest names in boxing.
It was also Freddie Roach who looked out for Manny when his former promoter Murad Muhammad was underpaying him, Roach stood up for Manny and told him he would need to sue his promoter for not paying him properly, Manny won and Murad settled out of court and let him out of his contract.
I hope this is a misunderstanding because dropping Roach after this long would be a foolish move on Manny's part, he is already nearing his retirement and they should just ride it out together to the end.
Erwin Lastimosa is a long time boxing fan and enjoys boxing discussion with his peers. Some of his favorite fighters are Sugar Ray Leonard, Roberto Duran, Marvin Hagler, Muhammad Ali, Flash Elorde, Mike Tyson and Manny Pacquiao.