Amir Khan just finished destroying his comeback opponent Phil Lo Greco in 39 seconds of the very first round, it was a very quick night of work after a long two year layoff.
The talk after the Khan vs. Lo Greco fight naturally revolved around the next possible fight, and Kell Brook was ringside to call out Khan.
Brook stepped into the ring for the post fight interview, but it didn't seem like Khan was having it. Instead of saying he wanted him next he kept dancing around the question and left the ring.
It seems Khan enjoys giving Brook the run around, in his post fight presser he suggested Adrien Broner who also fought the same night but in the US against Jessie Vargas (it ended in a Draw), would be a great match for him.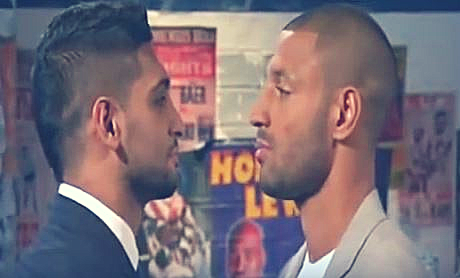 Before fighting Lo Greco at a catchweight of 150 pounds, Khan last fought in 2016 and was knocked out violently by the much bigger Canelo Alvarez, it wasn't a good move by Khan since he was moving up to middleweight from welterweight to fight, he had good success early with jabbing and moving but it was only a matter of time until Canelo would time his power hook perfectly and end the fight.
Brook also moved up from welterweight to middleweight and challenged the most feared man in boxing Gennady Golovkin, he went to war with the power puncher and had good moments but winded up quitting with an orbital bone injury that required surgery. It was Brook's first professional defeat.
Brook would go back down to welterweight to defend his IBF title against undefeated American Errol Spence Jr another hard hitter, he lost that fight suffering another eye injury causing him to quit.
After back to back losses he was able to comeback at light middleweight and stop his opponent Sergey Rabchenko in two rounds.
Khan is making issue of the weight, he knows Brook cannot make 147 pounds comfortably anymore as evidenced when he fought Spence his stamina was bad, and he gassed midway. If they fight Brook said he would comedown to 150 or 152 catchweight, if Khan doesn't at least give Brook that it could be seen as a duck move.
Khan's performance against Lo Greco a fighter isn't really a good indicator if he revived his career or not. The fight only lasted a few seconds and we don't know how his conditioning is over the long haul in a championship level fight against a top guy like Brook.
For Amir Khan his lifestyle has been a roller coaster in and out of the ring he wins some and loses some, but he keeps bouncing back.
I don't know how much longer the British public and the boxing world can take of this Khan vs. Brook teasing. It's not a super global fight like Floyd Mayweather vs. Manny Pacquiao which gave the public fits demanding it for years only for when it did finally happen it winded up a bore.
The question always lingers in these type of super fights that never happen, who's ducking who?
From what Ive observed over the years, I would have to believe Amir Khan is the man who doesn't really want the fight, I wouldn't say he is flat out ducking but more so teasing because he knows how bad Kell wants it, sort of like a hot girl who knows a desperate simpleton wants him bad but she just teases him never giving him a date only leading him on for fun.
Khan seems to enjoy that type of leading on, he gets a good wind up from seeing Brook beg for a fight.
I hope Khan signing with Eddie Hearn wasn't just a smokescreen because that would be a shame, it would be similar to Ricky Hatton not giving Junior Witter the time of day and the fight never coming to light.
Khan vs. Brook could wind up one of the greatest boxing fights in British boxing history.
Khan holds all the cards here, if the fight with Brook doesn't get made it's all on him. If they finally make it happen, I think it will be fireworks these two hate each other with a passion and they will leave it all in the ring.