The fight between Manny Pacquiao and Lucas Matthysse is just hours away in Malaysia, but more drama is brewing in the Pacquiao camp as Nonito Donaire Sr. the father and trainer of former world champion Nonito Jr. was dropped from working the corner for Pacquiao without any notice.
Nonito Sr. took to Facebook to tell his friends and family that he will no longer be working the corner of Pacquiao. He was initially brought into the camp as a co-trainer helping him with strategy for the July 14 WBA world championship fight, while Buboy took the lead, but a last minute change of plans forced him out.
His son the Filipino Flash, Nonito Jr. also chimed in on Facebook in defense of his father, hinting that the firing was done for personal reasons, nobody knows if it was Pacquiao or someone in his camp who requested the elder Donaire to be nixed from working the corner.
Without Freddie Roach the longtime American trainer of Pacquiao in the corner, Buboy Fernandez will now work as head trainer. Buboy has known Manny since they were kids and are best friends, this is a good opportunity for him to prove himself worthy as a trainer. If he can guide the Pacman to victory over the knockout artist Matthysse to win the WBA welterweight belt, he will add the title of Championship trainer in his first fight as a head trainer.
Pacquiao hired a mostly Filipino team for this fight with the exception of Justin Fortune is long time strength and conditioning coach from Australia. Fortune will work the corner and help give advice if needed.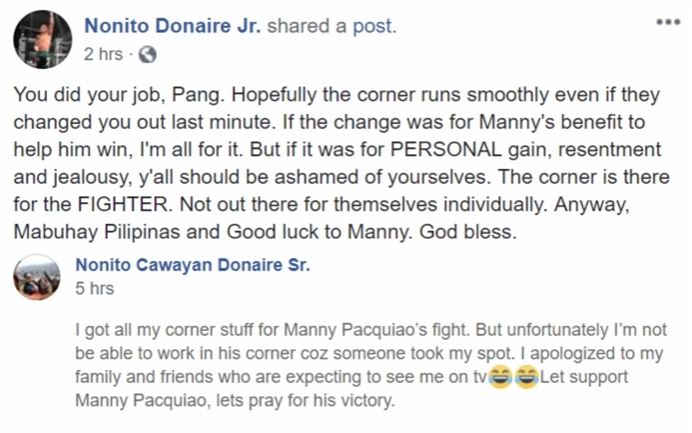 Despite the set back both father and son wished Manny Pacquiao the best of luck, but we may never know who made the decision to fire Nonito from the team.
Erwin Lastimosa is a long time boxing fan and enjoys boxing discussion with his peers. Some of his favorite fighters are Sugar Ray Leonard, Roberto Duran, Marvin Hagler, Muhammad Ali, Flash Elorde, Mike Tyson and Manny Pacquiao.