The land down under will be buzzing with boxing fever when two Aussies Anthony "The Man" Mundine and Jeff "The Hornet" Horn duke it out at the Suncorp Stadium in Brisbane, Queensland, Australia live on ESPN+ November 30.
The Horn vs. Mundine fight will be held at a catchweight of 156 pounds, and it will be a fun night between two of Australia's two biggest boxing stars.
Horn (18-1-1, 12 KOs) are former school teacher first made buzz when he defeated Filipino Ring legend Manny "Pacman" Pacquiao in Brisbane back in 2017 capturing the WBO welterweight title in the process and pulling off one of the biggest upsets for the year.
He defended his WBO belt one time against Gary Corcoran and then in his first fight in the USA lost the title to undefeated American Terence Crawford by stoppage.
Horn would like a rematch with Crawford but this time in Australia, he felt his camp and his body wasn't proper leading up to the bout and would like redemption, but first he has to get past Mundine on Friday night.
Mundine (48-8, 28 KOs) a former rugby player and WBA super-middleweight champion has fought some of the best names in boxing including a TKO victory over Sugar Shane Mosley.
He is at the later stages of his career having lost 3 of his last 5 fights. He wants to beat Horn to show he shouldn't be written off even at the age of 43.
During the weigh-in Horn's team felt Mundine had difficulty making the 156 pound catchweight because of the way he acted during the face off, he went to grab Horn's neck and they figured that was a sign of frustration and fear.
Mundine has fought as high as cruiserweight (200) and as low as junior middleweight (154), it is amazing that at 43 he went down in weight instead of up, normally fighters as they get older have difficulty making weight so they go up a division, Mundine went down, he fought most of his career at 168-pounds.
This fight could be one of the best all Australian fights in boxing history if both fighters show the same intensity inside the ring that they did outside during the face off.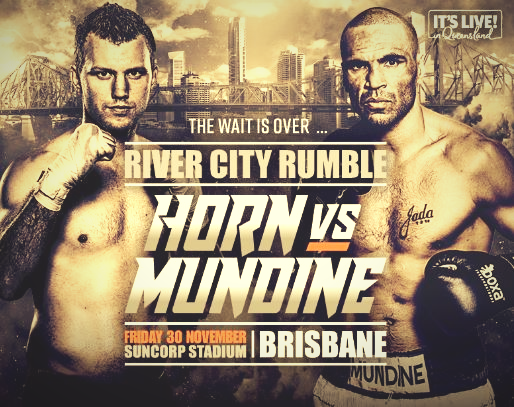 The Jeff Horn vs. Anthony Mundine Live Stream starts on Friday at 12:30 AM on ESPN+ (9:30 PM November 30 in Australia).