The Deontay Wilder vs Tyson Fury Heavyweight championship Pay-Per-View fight will be shown on various platforms from online live stream to television.
The Staples Center is the home of the Los Angeles Lakers dynasty, a storied NBA championship team with a history of superstars from Magic Johnson, Kobe Bryant and Lebron James. Tonight the Arena will have a different type of star power when Deontay Wilder and Tyson Fury two of the most electrifying heavyweights in the world will trade blows in front of a star studded crowd in the City of Angels.
The build up is over and the hype has led us to a fight for supremacy the former king Tyson Fury who never lost in the ring but was stripped of his titles, will try to reclaim his glory when he takes on fellow unbeaten Deontay Wilder for his WBC belt.
Wilder packs the punch with all of his opponents tasting defeat by stoppage, while Fury enjoys a more technical boxing approach of humiliating opponents for 12 rounds and making them frustrated with his awkward angles and movement.
While Fury wants to regain the throne, Wilder is looking to continue his title defense streak going, he already has seven defenses under his belt and is going after number eight.
Two styles will clash, power versus finesse, two men who are unpredictable inside and outside the ring, may the best man win.
The undercard will also deliver with Jarrett Hurd vs. Jason Welborn a IBF/WBA junior middleweight title fight, and the return of Cuban heavyweight contender Luis "King Kong" Ortiz against Travis Kauffman of Philadelphia.
Fight fans in the United States will be able to watch the fight on SHOWTIME PPV for $74.99 an that includes the option of streaming it live online through the SHOWTIME.com or the SHOWTIME app supported by iOS, Apple TV, Fire TV or Android mobile devices.
In the UK the PPV mega-fight will cost £19.95 and will be shown exclusively on BT Sport Box Office HD (bt.com/sportboxoffice)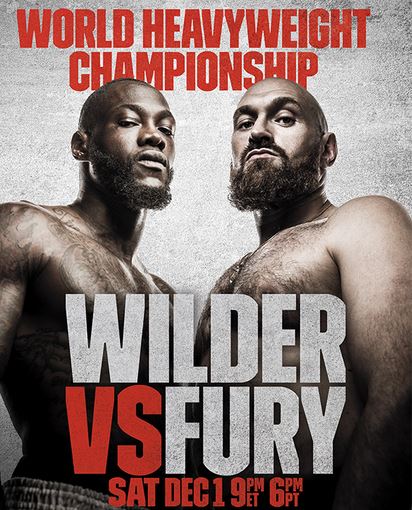 Wilder vs. Fury TONIGHT AT 9PM ET/6PM PT on December 1, 2018 in Los Angeles, California.