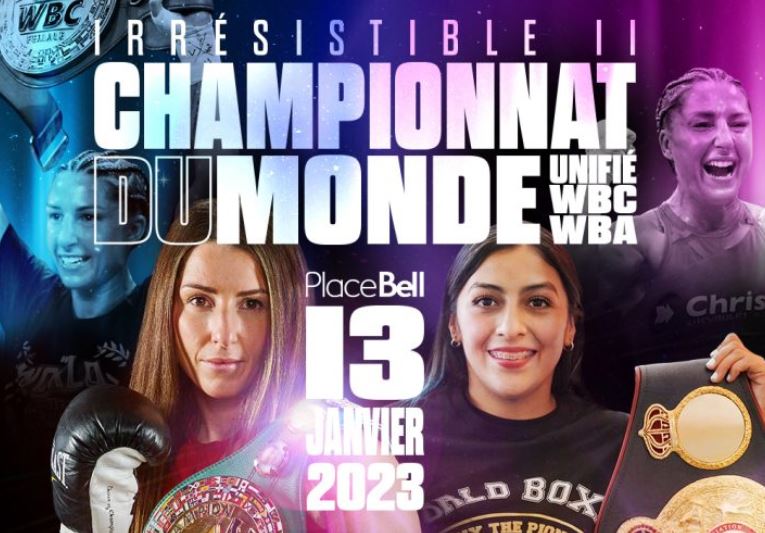 Kim Clavel vs Jessica Nery Plat WBC/WBA light flyweight unification bout will take place at the Place Bell arena in Laval, Canada on Friday the 13th of January 2023. ESPN+ will live stream the event online.
Undefeated Montreal fighter Mazlum Akdeniz will fight Mexican Cristian Bielma in the co-main event.
The event is promoted by Groupe Yvon Michel and features local talented prospects on the come up to keep an eye out for.
Clavel, 32, is the boxing nurse who is currently undefeated with a record of 16 wins, no losses and 3 by way of knockout. She won the WBA light flyweight title in July of 2022 when she beat Yesenia Gomez by decision.
Tonight Clavel aims to become the first Canadian-born unified champion male or female, she must beat a very tough opponent to do so but she believes in herself and will be backed by adoring fans to help motivate her in the ring.
Jessica Nery Plata, 28, is coming to opposing territory as an underdog even though she is the WBA world champion. This will be an uphill battle for the Mexican fighter, but she also has confidence in her ability to bring back both titles to Mexico.
Popular 25-year-old local Montreal prospect Mazlum Akdeniz will also have support on Friday night when he tries to elevate his undefeated record to 18 and 0 against Mexican journeyman Cristian Bielma in a 10-round light welterweight bout.
Official Irresistible II Fight Card
Kim Clavel (16-0-0, 3 KOs) vs Jessica Nery Plata (28-2-0, 3 KOs)
Mazlum Akdeniz (17-0-0, 8 KOs) vs Cristian Bielma (19-4-2, 7 KOs)
Marie Pier Houle (7-0-1, 2 KOs) vs Marisol Moreno (6-3-0, 0 KOs)
Eric Basran (2-0-0, 1 KOs) vs Juan Carlos Ramirez Garcia (4-2-0, 0 KOs)
Caroline Veyre (1-0-0, 0 KOs) vs Estefania Gonzalez Franco (3-5-0, 0 KOs)
Derek Pomerleau (3-0-0, 2 KOs) vs Gustavo Magana Rodriguez (3-1-1, 1 KOs)
Event: Irresistible II: Kim Clavel vs Jessica Nery Plata
Venue: Place Bell arena in Laval, Canada
Promotion: GYM: Groupe Yvon Michel
Date and Time: Friday, January 13, 2023 at 7:00 PM ET / 4:00 PM PT
TV / Live Stream: ESPN+