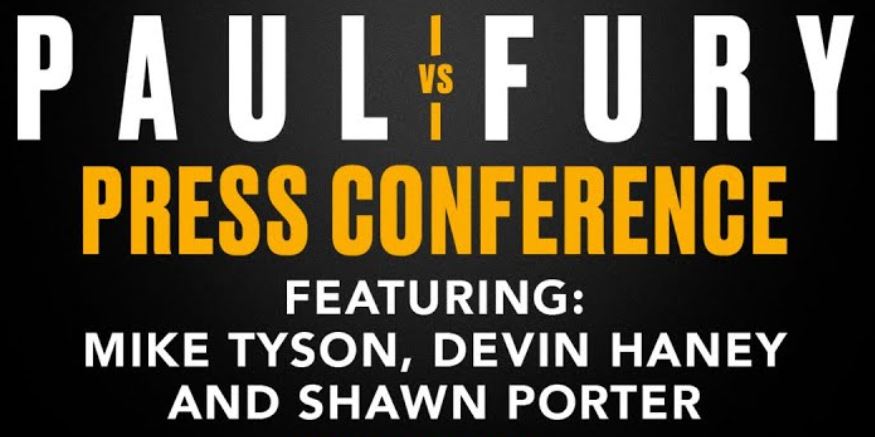 Jake "The Problem Child" Paul and Tommy "TNT" Fury will exchange words for the last time and address media at the final fight week press conference before their showdown on Sunday night.
The two undefeated prospects will square off in an 8-round cruiserweight bout in Riyadh, Saudi Arabia and the event will be picked up by Top Rank Boxing and ESPN+ Pay-Per-View.
Paul who gained fame as a Disney actor and YouTube star, is now one of boxing's biggest names and he has yet to fight a professional boxer, but that all changes on Sunday night when he takes on the unbeaten Tommy Fury who is the younger brother of heavyweight champion Tyson Fury.
Fury, has been calling out Paul for a few years, and the two were set to fight twice before only for the fights getting canceled first due to an illness Fury had on fight week and then visa issues with Fury that prevented him from flying to the United States.
Now the fight is finally here and this will be one of the biggest boxing events of the year as Paul and Fury will finally have a chance to prove themselves and backup their talk on fight night.
Paul vs. Fury is promoted by Most Valuable Promotions (MVP) and Top Rank, it will be broadcast live though ESPN Pay-Per-View.
Fight Card
Cruiserweight – Jake Paul vs. Tommy Fury
Cruiserweight Championship – Ilunga Makabu (Champ) vs. Badou Jack (WBC Title)
Super Lightweight – Ziyad Almaayouf vs. Ronnald Martinez
Cruiserweight – Muhsin Cason vs. Taryel Jafarov
Lightweight – Bader Samreen vs. Viorel Simion
Super Lightweight – Adam Saleh vs. Stuart Kellogg
The Top Rank: Paul vs Fury Press Conference Live Stream airs on Thursday, February 23, 2023 at 11:30 AM ET / 8:30 AM PT on Top Rank's YouTube channel (Video Below).
Paul-Fury Weigh-In live stream on ESPN+, Saturday, February 25, 2023 at 4:30 AM ET / 1:30 AM PT.
Watch Jake Paul vs. Tommy Fury ESPN+ Pay-Per-View on Sunday, February 26, 2023 at 2:00 PM ET / 11:00 AM PT.