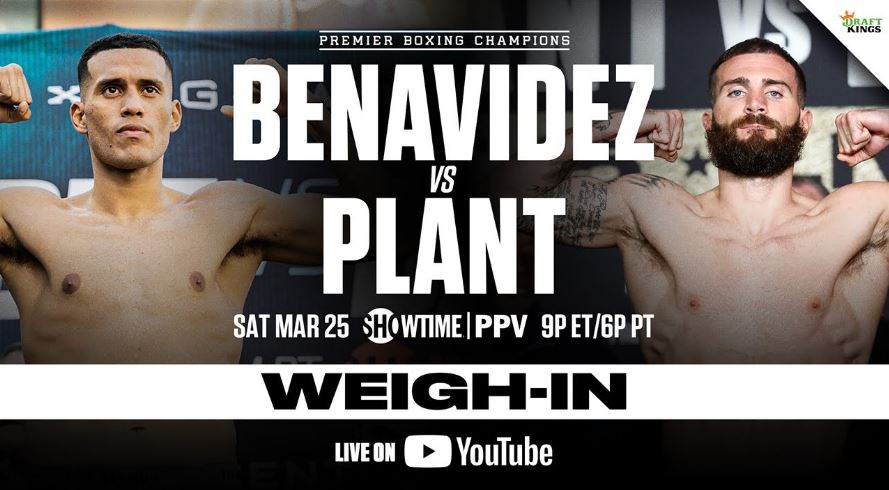 David Benavidez vs Caleb Plant live stream weigh-in takes place at the MGM Grand in Las Vegas on Friday and the fight takes place on Saturday night on SHOWTIME Pay-Per-View.
David Benavidez (26-0, 23 KOs) is the undefeated 168-pound Mexican Monster and he is ready to unleash on foe Caleb Plant for all the bad blood they have.
Caleb Plant (22-1, 13 KOs) isn't scared of Benavidez and isn't sold on nickname Mexican Monster because he believes he hits harder than him and will prove it on Saturday night.
Benavidez and Plant both want to face Canelo Alvarez next but they will have to put on a fight of the year candidate to prove they deserve a shot at the cash cow.
The fight card will also feature a co-main event between two young undefeated fighters in the light middleweight division. Joey Spencer (16-0, 10 KOs) and Jesus Alejandro Ramos (19-0, 15 KOs) don't care about protecting their unblemished records and instead of avoiding each other they rather take the old school approach and fight each other in their prime not when they are past their prime.
Former super featherweight Chris Colbert (16-1, 6 KOs) moves up to lightweight to take on the hard hitting Jose "Rayo" Valenzuela (12-1, 8 KOs), and in the opening bout of the PPV telecast undefeated Cody Crowley (21-0, 9 KOs) goes up against Abel Ramos (27-5-2, 21 KOs) in a welterweight bout.
Fight Card
Super Middleweight (168 lbs) – David Benavidez vs. Caleb Plant
Light Middleweight (154 lbs) – Jesus Alejandro Ramos vs. Joey Spencer
Lightweight (135 lbs) – Chris Colbert vs. Jose Valenzuela
Welterweight (147 lbs) – Cody Crowley vs. Abel Ramos
Super Bantamweight (122 lbs) – Kevin Gonzalez vs. Jose Sanmartin
Light Welterweight (140 lbs) – Orestes Velazquez vs. Marcelino Nicolas Lopez
Super Featherweight (130 lbs) – Demler Zamora vs. Jesus Abel Ibarra
Super Middleweight (168 lbs) – Daniel Blancas vs. Nicholas Molina
Super Featherweight (130 lbs) – Robert Meriwether III vs. Jesus Ramon Perez
Watch the David Benavidez vs. Caleb Plant Live Stream Weigh-In Results on Friday, March 24, 2023 at 4:00 PM ET / 1:00 PM PT on YouTube (Video Below).