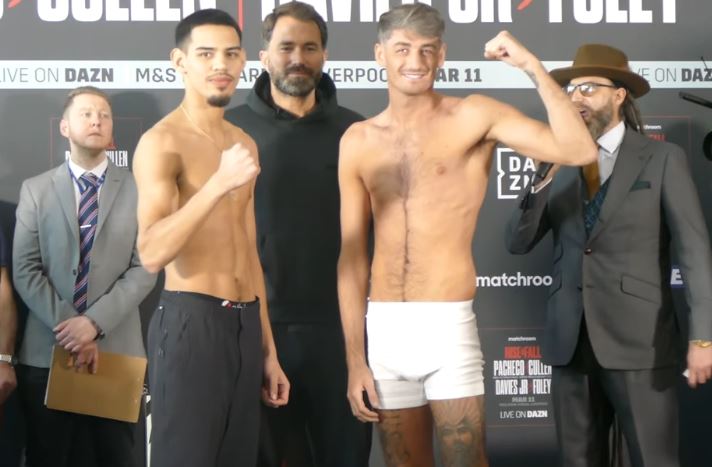 Undefeated American Diego Pacheco (17-0, 14 KOs) will go heads up with British boxer Jack Cullen (21-3-1, 9 KOs) in a super middleweight main event on March 11 at the M&S Bank Arena in Liverpool, England.
The event will be live streamed online through DAZN, and a free preliminary fight undercard will be shown on YouTube before the main card.
Pacheco who was born in Los Angeles, is a rising star in the 168-lbs division and he is ready to shine on the main stage and will aim to put on a show in the UK against popular local fighter Jack Cullen.
Cullen might be the underdog heading int the bout but he will also be motivated to prove the critics wrong by being the first to beat the highly touted undefeated super middleweight contender.
Prior to the main card on DAZN, Matchroom Boxing will stream a Free preliminary fight card and countdown show Before The Bell.
On the Before The Bell live stream prelims on YouTube, four promising boxing stars and undefeated prospects will showcase their skills. The Matchroom boxing stable of fighters on the stream will include Campbell Hatton the son of British boxing legend Ricky Hatton will continue his climb against Michael Gonxhe in a super lightweight bout on the Before The Bell broadcast.
Before The Bell Preliminary Fight Card
Middleweight – George Liddard vs Daniel
Middleweight – Paddy Lacey vs James McCarthy
Super Lightweight – Campbell Hatton vs Michael Gonxhe
Super Featherweight – Aqib Fiaz vs Dean Dodge
The Before The Bell: Pacheco vs Cullen live stream undercard prelims start at 11:00 AM ET / 8:30 AM PT on Saturday, March 11, 2023 on Matchroom Boxing YouTube Channel.

Upload by Matchroom Boxing