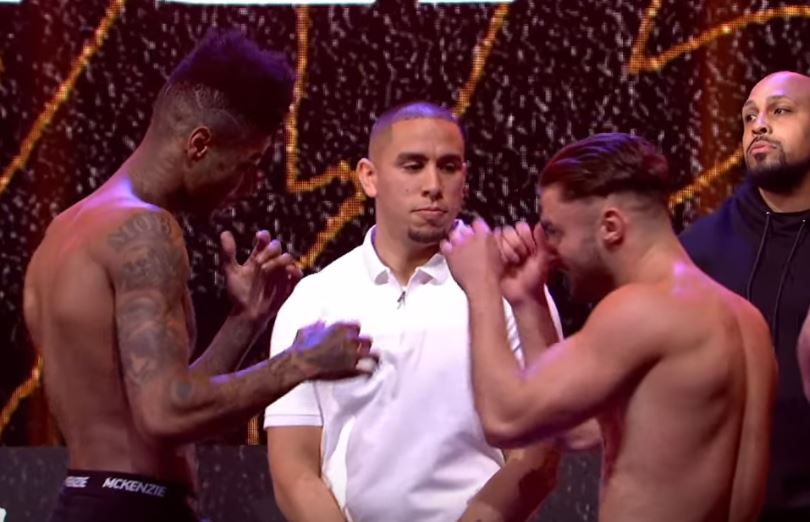 On Saturday night, California rapper Blueface aka Jonathan Porter and UK bad boy TikToker Ed Matthews will be the featured bout of the Kingpyn High Stakes Boxing Tournament Quarter-Finals live from The OVO Arena in London, England.
Blueface who was a star athlete in high school when he played Quarterback for his team and had offers from several colleges, turned into a popular rapper with his hit song "Thotiana" and now is branching out into the social media influencer and celebrity boxing realm.
The Cali rapper first fought in a boxing match in the BKFC and won, he was scheduled to fight former LA Laker NBA basketball player Nick Young but the commission pulled him from the card.
Now he returns to the boxing ring against UK Bad Boy TikToker Ed Matthews in a middleweight bout.
The card is headlined by Aneson Gib vs Austin McBroom and they will be taking part in the quarter-finals of the Kingpyn 170 pound tournament. Gib and McBroom first fought at the Social Gloves event in Los Angeles and McBroom was dropped multiple times and eventually stopped by the British YouTube star.
McBroom said he wasn't one hundred percent heading into the fight and Gib took offense to that and now he has a chance to shut up McBroom and beat him again to make him realize it wasn't a fluke.
Kingpyn Fight Card
Ali Al-Fakhri (Aneson Gib) vs. Austin McBroom
Elle Brooke vs. Aleksandra Daniel
Jonathan Porter (Blueface) vs. Ed Matthews
Whindersson Nunes vs. Filip Marcinek
Daniella Hemsley vs. Jully Oliveira
Jarvis Khattri vs. Tom Zanetti
Nathan Bartling (My Mate Nate) vs. Kenny Ojuederie (King Kenny)
Avery Pongracz (6ar6ie6) vs. Whitney Johns
Emily Brooke vs. Amber O'Donnell
The Kingpyn High Stakes Tournament Quarter-Finals takes place on Saturday, April 22, 2023 at 2:00 PM ET / 11:00 AM PT and will be live streamed online via Kingpyn Pay-Per-View. For more information on how to watch the fight visit: https://kingpynboxing.com/