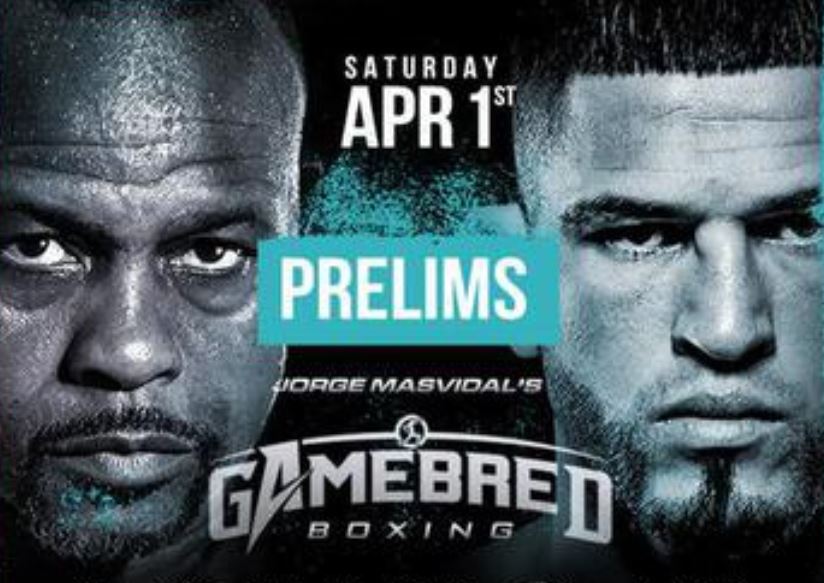 UFC superstar Jorge Masvidal is putting on an amazingly stacked boxing card featuring boxing legend Roy Jones Jr. and former UFC lightweight champion Anthony Pettis in the main event on April 1st, live from the Fiserv Forum in Milwaukee, Wisconsin.
All bouts on the card will go on the fighters professional boxing record, these are not exhibitions so the fighters have more to lose and to gain on fight night.
A Free multi-fight preliminary card will air on Gamebred Boxing's YouTube Channel, as well as UFC fight Pass, and FITE TV, the main PPV will be shown on UFC Fight Pass and your Cable provider.
In the main event Roy Jones Jr a multiple weight boxing champion and hall of fame inductee is fighting at the age of 54 against a 36-year-old former UFC lightweight champion Anthony "Showtime" Pettis in a 6-round cruiserweight bout.
The jump in weight is extreme for Pettis who normally fought at 155-pounds majority of his MMA career, he will now fight at the 200-pound limit in boxing and takes on one of the GOATs.
Jones Jr. might have the experience and boxing pedigree but age will be the main issue and punch tolerance, unlike his bout with Mike Tyson which was an exhibition neither guy were going for the KO, now Jones Jr will be in another pro bout against a younger fighter wanting to make a name for himself in boxing so he has to be careful of the knockout.
Gamebred Boxing 4 Main Fight Card
Cruiserweight – Roy Jones Jr vs Anthony Pettis
Cruiserweight – Vitor Belfort vs. Ronaldo "Jacare" Souza
Welterweight – Jose Aldo vs. Jeremy Stephens
Women's Featherweight – Pearl Gonzalez vs. Gina Mazany
Super Lightweight – Luis Feliciano vs. Clarence Booth
Super Featherweight – Devin Cushing vs. Damian David Marchiano
Heavyweight – Dillon Cleckler vs. Josh Burns
Preliminary Fight Card
Cruiserweight – Joe "Diesel" Riggs vs. Markus Perez
Super Featherweight – Javier Zamarron vs. Roberto Armas
Welterweight – Cade Howell vs. Devante Sewell
Bantamweight – Bi Nguyen vs. Andy Nguyen
Women's Lightweight – Danielle Wynn vs. Danielle Cohen
The Free live stream preliminary undercard begins at 7:00 PM ET / 4:00 PM PT on Saturday, April 1, 2023 and will live stream on various platforms like YouTube, UFC Fight Pass. International fans can watch the prelims live on FITE TV: https://www.fite.tv/watch/gamebred-boxing-4-prelims/2pcu9/