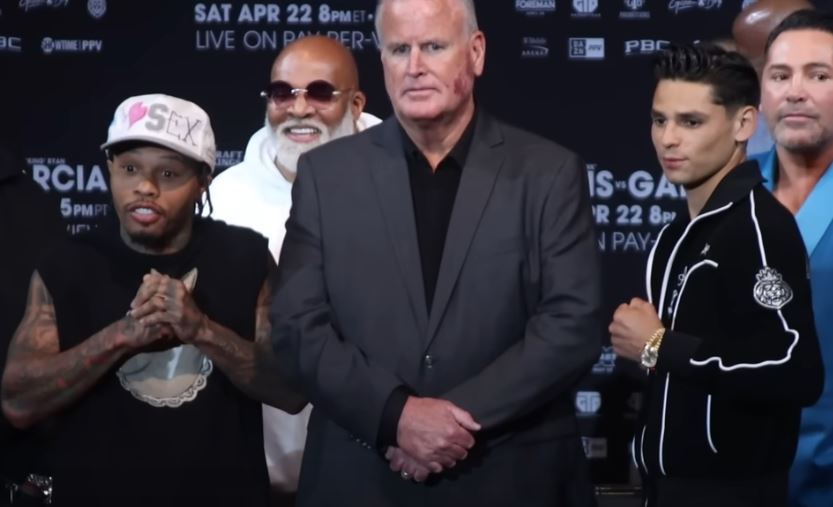 Well, it's here Gervonta "Tank" Davis vs. "King" Ryan Garcia. It's a BIG FIGHT! I have been waiting nervously for months now. I have watched all the promotional meetings, workouts and interviews.
To be honest with you I thought it was basically a pick-em fight. And the reason I felt that way was because they both have the "One-Hitter-Quitter" knockout power.
But now after listening to the Ryan Garcia camp including promoter Oscar De La Hoya emphatically address the hydration clause over and, over, and, over again, I believe now Tank Davis has the edge going into the fight.
But I don't believe Tank has an edge over Garcia because of the hydration clause.
The clause applies to both fighters. Tank can't contractually be more than 10 pounds at the morning weigh in. Whenever they weigh in, Tank can't be any heavier than Ryan.
Do you know that the World Boxing Association (WBA) and International Boxing Federation (IBF) have hydration clauses in their rules and regulations? They have them in place for the health of the fighters. Depending on your body type you have somewhere between 50% to 70% of your body weight in water. It's not healthy for a fighter to lose more than 10 to 15% of the water in their body to make the contracted weight.
Plus, Hydration clauses are not new. The hydration clause is a common stipulation. The clause ensures that a 100-pound guy is fighting a 100-pound guy at fight time.
Okay. Back to the reason I now think Tank has the advantage.
Ryan's camp, to me, by continuing to bring up the Hydration clause, they are simply setting up the excuse for a loss. Truth be told, they have plenty of time to put water in Ryan's body. And it's just electrolytes we're talking about. Fans that don't understand think his muscles are being restricted and he has lost muscle mass. No, we are basically talking about water.
The actual fight will take place about 32 hours after the weigh in. That is plenty of time to hydrate.
So, for all of you fight fans that think Ryan was screwed and he's going to be weight drained, rest assured that he won't be weight drained, if he cut the weight properly.
His real problem is controlling his emotions and adrenaline. Nothing makes a fighter flat quicker than too much adrenaline in their body. If you get too much adrenaline released, you will feel sleepy, weak, and slow.
Trust me when I tell you this, Its about the Adrenaline not the Water.
First time on the grand stage, nervous, warms up too long, talked a lot of trash, too much pre-fight promotions, the national anthem is too long, you just wanna get it over with, and now, you can't feel your teeth. You can't hear the crowd. OH SH*T!
Vegas odds are better than 2:1 for Tank. Or, said another way, Tank is said to have better than a 72% chance of winning. Yeah, he has fought better competition but mostly he's going to be the calm fighter and his adrenaline and emotions will be in check.
Ryan is good enough to win, no question, but there are a lot of factors not in his favor and it's those factors, those intangibles that gives Tank the Edge.
The Stage may just be too big for him right now. I say that knowing Ryan can win.
I'm not sure his team thinks he can. Too much hydration talks and complaining.
The excuse is in place for when he runs out of gas. They will say it was water and I will say he had too much adrenaline released.