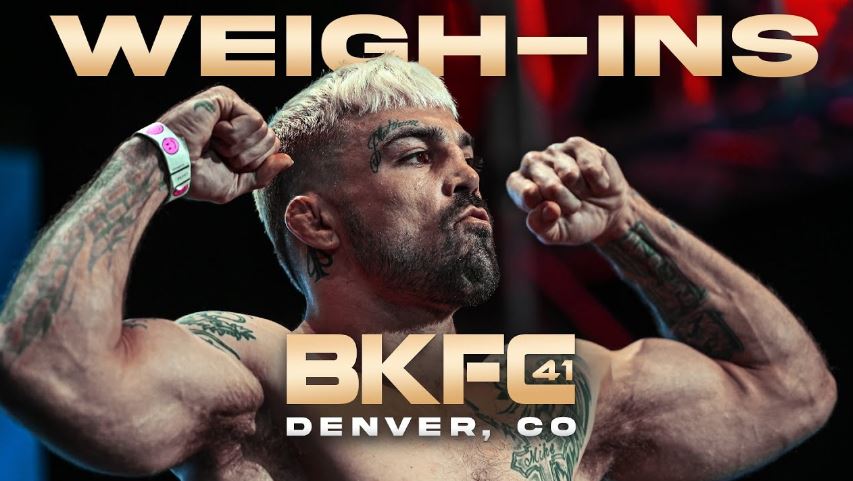 The biggest event in Bare Knuckle Fighting Championship is just around the corner when BKFC 41: Mike Perry vs. Luke Rockhold takes place at the 1ST Bank Center in Broomfield, Colorado on Saturday, April 29th.
Before the blockbuster Pay-Per-View event fighters will hit the scales for the official weigh-in on Friday night, the weigh-in will be FREE to watch and live streamed on YouTube.
In the main event two former UFC fighters Mike Perry and Luke Rockhold will toe the line and see who can take it in the Bare Knuckle ring.
Perry is quickly becoming the face of BKFC having won both of his bouts and currently 2 and 0 in the organization he is coming off his biggest win when he beat Bellator's Michael "Venom" Page by decision in a crossover event in England.
Perry showed he could box and win on the cards to and isn't just a brawler, he believes he found his niche and wants to continue his winning and undefeated ways in the BKFC.
Former UFC middleweight champion Luke Rockhold will make his BKFC debut against Perry in the main event and he is banking on his height and reach advantage to carry him through. Perry warned him that this is a different game and doesn't believe Rockhold will be able to take the punishment or dish it out.
In the co-main event, former UFC featherweight title challenger Chad Mendes faces two-time Bellator MMA and UFC lightweight champion Eddie Alvarez. Mendes is undefeated in BKFC while Alvarez will be making his debut with the company.
Women's BKFC flyweight champion Christine Ferea will take on former champion Bec Rawlings in the lone championship bout of the evening.
BKFC 41 Colorado Fight Card
Mike Perry vs. Luke Rockhold
Chad Mendes vs. Eddie Alvarez
Christine Ferea vs. Bec Rawlings
Josh Copeland vs. Ben Rothwell
Chris Camozzi vs. Daniel Spohn
Brandon Girtz vs. Christian Torres
Mike Alvarado vs. James Brown
Khortni Kamyron vs. Gabrielle Roman
Matthew Maestas vs. Dillon Winemiller
Marcus Edwards vs. Jay Jackson
BJ Lawrence vs. Wayna Reid
Jack Willoughby vs. Mitch Seybold
The BKFC 41 Colorado: Mikey Perry vs. Luke Rockhold weigh-in results live stream begins at 8:00 PM ET / 5:00 PM PT on Friday, April 28, 2023 on the Bare Knuckle Fighting Championship YouTube Channel.