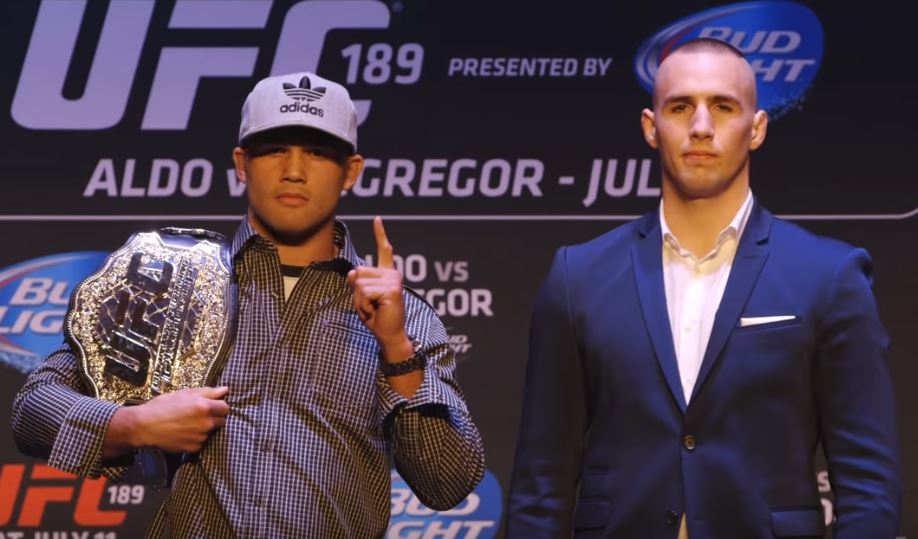 During the UFC 287: Alex Pereira vs. Israel Adesanya 2 Pay-Per-View broadcast it was announced that Robbie Lawler and Rory MacDonald would be inducted into the UFC Hall of Fame for their all action welterweight rematch at UFC 189. The announcement was met with widespread approval from fans and analysts alike, who recognized the contributions that both fighters made to the sport during their respective careers.
Robbie Lawler, who began his career in the UFC in 2002, amassed a record of 28-15 with one no contest during his time in the organization. Known for his devastating striking and fearless fighting style, Lawler captured the UFC welterweight title in 2014 with a thrilling victory over Johny Hendricks. He successfully defended the belt twice before ultimately losing it to Tyron Woodley in 2016. Throughout his career, Lawler faced a who's who of top welterweights, including Matt Hughes, Nick Diaz, Carlos Condit, and Georges St-Pierre.
Rory MacDonald, meanwhile, made his UFC debut in 2010 and went on to compile a record of 21-7-1 in the organization. Known for his technical striking and grappling, MacDonald was considered one of the top welterweights in the world during his prime. He challenged Lawler for the welterweight title in 2015 in what is widely regarded as one of the greatest fights in UFC history. Though MacDonald ultimately lost the fight, he showed incredible heart and determination throughout the five-round war. MacDonald later left the UFC to sign with Bellator MMA, where he won the welterweight title in 2018.
Both Lawler and MacDonald were known for their exciting fights and their willingness to take on any challenge that came their way. They were also respected for their professionalism and sportsmanship outside of the Octagon. As such, their inductions into the UFC Hall of Fame are well-deserved and a fitting tribute to two of the greatest welterweights in the history of the sport. Their fight will officially enter the UFC Hall of Fame at the International Fight Week ceremony on July 6 ahead of UFC 290 in Las Vegas.