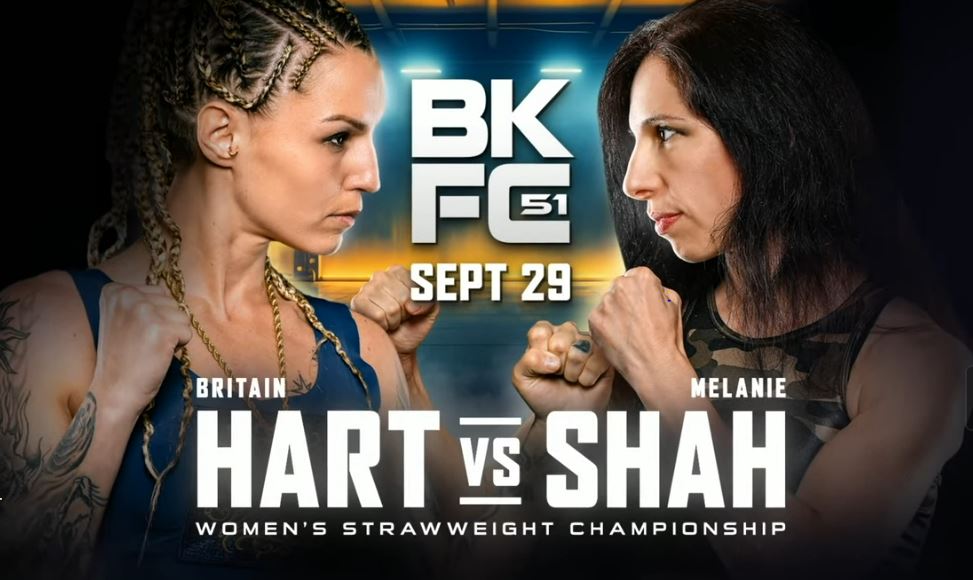 The Bare Knuckle Fighting Championship heads to the Salem Civic Center in Virginia for BKFC 51: Britain Hart vs. Melanie Shah on Friday, September 23. A Free Live Stream preliminary fight undercard will air on YouTube before the main card.
The BKFC the most exciting combat sport in town, puts on stacked cards from top to bottom and fans always leave the show entertained due to the fast paced action.
On Friday, The women's BKFC strawweight champion Britain Hart will put her title on the line against top contender Melanie Shah in the main event of BKFC 51 Salem.
Hart is 7-3 in the BKFC and is riding a four fight win streak. The veteran began her career with two back to back losses and was counted out before her fight with former UFC star Paige Van Zant, only to pull off the upset winning a decision.
She has found her stride and adjusted to the style of bare knuckle striking and looks to maintain her championship for a long time.
Her opponent tonight is Melanie Shah the number 4 contender with an undefeated record of two wins and no losses, she comes from the United Kingdom and is confident she will beat hart and bring the title back home to England.
On the Free Prelim Live Stream, Cody Jenkins will take on Zachary Pannell and Ka'Sim Ruffin goes up against Daniel Gary.
BKFC 51 Fight Card
Britain Hart vs. Melanie Shah – Hart's BKFC women's strawweight title
Dustin Pague vs. Joe Elmore
Stanislav Grosu vs. Blake LaCaze
Bruce Abramski vs. Mark Culp
Ronnie Glass vs. Joseph Creer
Brian Maxwell vs. Harris Stephenson
Kaine Tomlinson vs. Brett Fields
Rick Caruso vs. Landon Williams
Cody Jenkins vs. Zachary Pannell
Ka'Sim Ruffin vs. Daniel Gary
Watch the BKFC 51 Free Prelims Live Stream on YouTube at 7 pm ET / 4 pm PT on Friday, September 29, 2023.