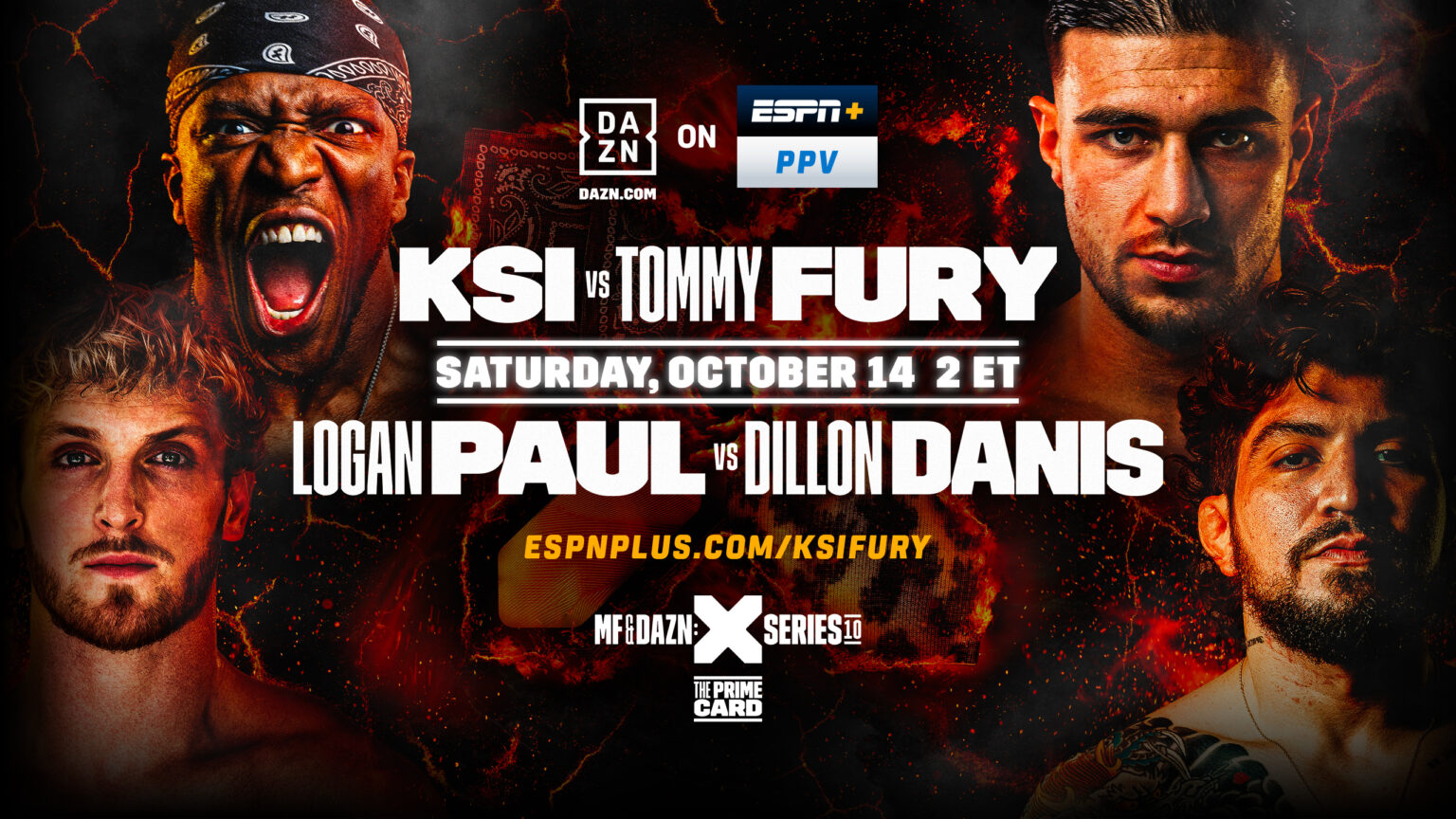 (ESPN Press Room) MF & DAZN: X Series 10 – The Prime Card, a double main event showdown, featuring KSI vs. Tommy Fury and Logan Paul vs. Dillon Danis, will be presented live this Saturday, Oct. 14, at 2 p.m. ET, from Manchester Arena in Manchester, England.
ESPN+ subscribers can purchase the $64.99 PPV here. New ESPN+ subscribers can sign up here. ESPN+ is available on ESPN.com and the ESPN App for mobile and connected TV devices.
This MF & DAZN: X Series PPV event on ESPN+ is the second ESPN and DAZN collaboration following Jake Paul vs. Nate Diaz last August.
Double Main Event:
YouTube influencer KSI goes head-to-head with pro boxer and reality television star Tommy Fury in a blockbuster that will end in one of the men losing their undefeated status.
Double Main Event:
Alongside KSI and Fury in the dual-main event, social media star and WWE revelation Logan Paul and MMA fighter, Dillon Danis, will be forced to swap words for fists as they battle to see who will come out on top, with much more at stake than a belt.
Additional PPV Highlights:
Salt Papi will take on Slim as announced live at X Series 009, when the two had to be separated.
Whindersson Nunes and My Mate Nate will meet in a matchup that promises to bring the drama in another sensational undercard fight.
King Kenny will face a thrilling challenge when he comes up against Anthony Taylor, a former 205lb MMA fighter.
Walid Sharks and Deen the Great will face off in a must-see rematch, with Sharks looking to even the score.
Oct. 14 also features the return of Tag Team action with Alex Wassabi & NichLmao vs. Luis Alcaraz Pineda & BDave.
Misfits and DAZN X Series 10 Prime Card
KSI vs. Tommy Fury
Logan Paul vs. Dillon Danis
Salt Papi vs. Slim
Deen the Great vs. Walid Sharks
King Kenny vs. Anthony Taylor
Whindersson Nunes vs. My Mate Nate
Alex Wassabi & NichLmao vs. Luis Alcaraz Pineda & BDave
Chase DeMoor vs. Tempo Arts
Swarmz vs. TBD
S-X vs. DTG
Watch ESPN and Top Rank Present MF & DAZN: X Series 10 – The Prime Card Double Main Event Showdown: KSI vs. Tommy Fury & Logan Paul vs. Dillon Danis, Live on ESPN+ PPV  on Saturday, October 14, 2023 at 2:00 p.m. ET / 11:00 a.m. PT