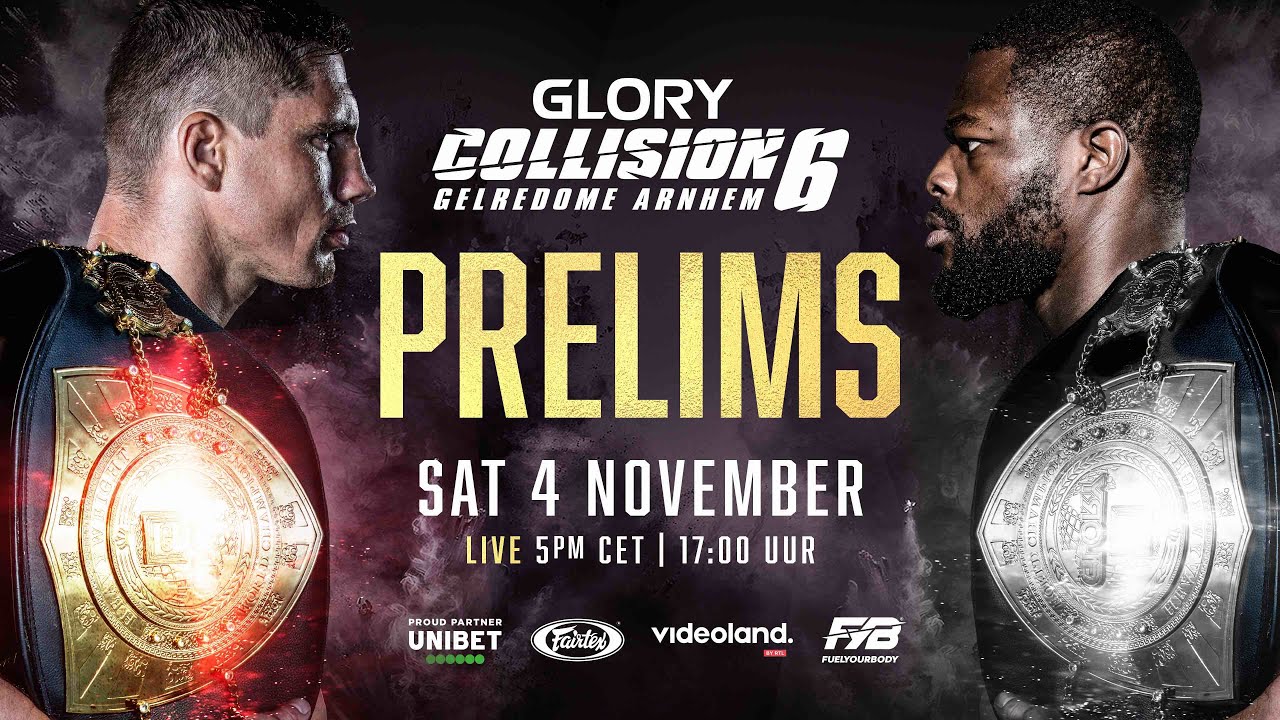 GLORY Kickboxing returns to action on November 4th with Glory Collision 6: Rico Verhoeven vs. Tariq Osaro a card stacked with three championship fights. A Free Live Stream prelim card will broadcast on YouTube prior to the main card.
In the main event, long reigning Glory kickboxing heavyweight champion Rico Verhoeven (60-10, 20 KOs) will go head to head with the interim champion Tariq "Cookie" Osaro (25-2-1, 13 KOs). This will be a battle for supremacy in the heavyweight division and one of the best match ups of the year.
In the co-main event, Donegi Abena (26-9, 7 KOs) the current Glory light heavyweight champion will put his title on the line against rival Tarik Khbabez (49-10-1, 28 KOs).
In the opening title bout of the evening, middleweight champ Donovan Wisse (19-1, 10 KOs) takes on the number one challenger to the title Michael Boapeah (16-3-1, 7 KOs). Wisse has looked amazing and hopes to continue his win streak but Boapeah believes he can stop the train and become the new champ.
In the free three fight Glory 6 prelims, several welterweight fighters from the reality TV show "House of GLORY" will go toe to toe. Don Sno (2-1, 1 KOs) who was originally scheduled to fight Andrija Stankovic will now face Gino van Steenis (1-0). Robin Ciric (21-6, 7 KOs) takes on Ismael Ouzgni (3-1, 1 KOs), and Figuereido Landman (1-1) battles it out with Soufian-Aoulad Abdelkhalek (3-2-1 1 KO) in the first fight of the broadcast.
Glory Collision 6 Fight Card
Heavyweight Championship – Rico Verhoeven (Champ) vs. Tariq Osaro
Light Heavyweight Championship – Donegi Abena (Champ) vs. Tarik Khbabez
Middleweight Championship – Donovan Wisse (Champ) vs. Michael Boapeah
Welterweight – Hamicha vs. Diaguely Camara
Middleweight – Serkan Ozcaglayan vs. Ulric Bokeme
Welterweight – Jay Overmeer vs. Chico Kwasi
Light Heavyweight – Ibrahim El Bouni vs. Stefan Latescu
Featherweight – Abraham Vidales vs. Ahmad Chikh Mousa
Prelim Fight Card
Welterweight – Don Sno vs. Gino van Steenis
Welterweight – Robin Ciric vs. Ismael Ouzgni
Welterweight – Figuereido Landman vs. Soufian-Aoulad Abdelkhalek
Watch GLORY COLLISION 6: Rico vs Osaro Live Stream Prelims on Saturday, November 4, 2023 at 12:00 PM ET / 9:00 AM PT on YouTube.