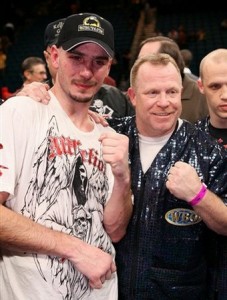 I know Kelly and Jack Loew are very close and loyal to each other but after watching the Taylor rematch and the Hopkins fight again I noticed Jack giving the same advice over and over with no real plan B "double up on the jab". In a few moments the cutman Miguel Diaz seem to of taken over as the Lead Trainer, to me that shows a bit of inexperience on Loew's part and unprofessionalism unless the cutman just took over because he felt just like Pavlik needed to mix things up and try something new. The truth is if the strategy and plans are not there then you are basically a guy running on auto pilot against a crafty thinking fighter like Bernard Hopkins that spells Danger. Maybe they did have a good strategy against B-Hop and Kelly just had an off night and did not show up that night. I personally like the Ghost his heart is top of the line but it seems his one dimension of moving forward and throwing only straight shots while trying to trap his opponent on the ropes can only get him so far. I wanna know what you guys think.
Can Kelly Evolve and add new dimensions to his game?
Do you think Kelly needs to hire a new Lead trainer and still keep Jack on as assistant trainer if so who?
do you think he is just fine with Jack?
My Guess is as good as yours.
DISCUSS THIS TOPIC IN THE FORUM