News Article "Sponsors Paying For Your Fight" by Darren Rovell of CNBC sports biz says fight fans can reduce the cost of their ppv price for the Oscar De La Hoya vs Manny Pacquiao "Dream Match" from $54.95 to $14.95 with special rebates in Select Beverages, Tecate and Coke Full Throttle Energy Drink.
From the Article: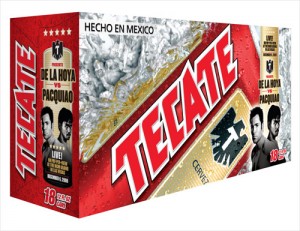 Full Throttle is offering a $20 rebate on the Pay-Per-View with a purchase of four of its 16-ounce cans. Tecate's $20 rebate comes on buying a 12-pack or larger. It should be noted that in some states, you actually don't have to purchase the items to get the rebate (including New York, Indiana and North Carolina). You can just send in the card that is on point-of-purchase displays in your supermarket. In other states, the promotion doesn't apply.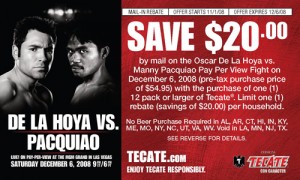 It seems like getting $40 off will require some work, since both rebates require an original billing statement for your Pay-Per-View, but I still love the effort. Of course, the critics are going to say, you have to spend to save and in the end it might be a wash. But I've never seen something like this before and it's an innovative way to do something that the rest of the pack isn't doing. Nice work, beverage boys.
Article Source