Multiple division boxing champion Manny "Pac-Man" and UFC heavyweight champion Brock Lesnar are up against each other for Spike TV's Guys Choice award in the category of MOST DANGEROUS MAN (Spike is the station that brought UFC to the mainstream).
Manny Pacquiao the most dangerous welterweight in boxing versus Brock Lesnar the baddest heavyweight in the UFC.
Pacquio the honeybadger of boxing because no matter how big the opponent he is more than ready and willing to go toe to toe with them.
Lesnar the massive former WWE superstar turned MMA fighter has the size and looks to strike fear into his opponents hearts. He also has the skills to back up his fearsome look.
Make sure to cast your vote one who you consider the Most Dangerous Man pound for pound:
SPIKE TV Guys Choice Nominees and press release
The Pac-Man (pictured above) comes from the Philippines and is known for his tenacity inside the ring. He throws none stop punches and has hurt dozens of bigger men in sparring. Small but ferocious, don't let his smiling face fool you, when he steps into the ring he is ready to fight.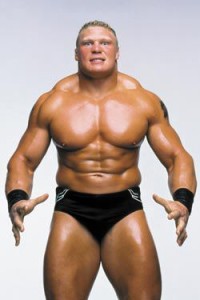 Lesnar (Picture above) has a collegiate wrestling background at the NCAA level and became a universal star in the WWE. His athleticism for his size is insane, he weighs more than 280 pounds but cuts down to 265 the heavyweight limit in the UFC, and he moves like a lightweight with the power of a heavyweight.
Send in your articles to NOW BOXING