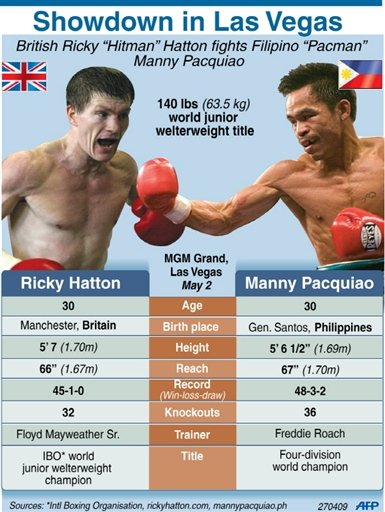 LAS VEGAS, Nevada (AFP) — Manny Pacquiao avoided Manila's distracting delights to train in Hollywood so he could better focus upon what he needs to do to win Saturday's showdown fight with England's Ricky Hatton.
After working out for weeks next door to a Thai restaurant where he would eat dinner, the Filipino boxing star has found his focus and is confident he can become a champion in a record-matching sixth different weight division.
"If that happens, people will look at me as my name is on the list with the greatest legends in boxing history and that will be my legacy," Pacquiao said.
"It's very important to me to win six. It's a big honor for my country."
Pacquiao, 48-3 with two drawn and 36 knockouts, and Hatton, 45-1 with 32 knockouts, are set to make their arrivals in Las Vegas on Tuesday to begin the final countdown for a highly anticipated junior welterweight title bout…Full Story
Visit the NOWBOXING FORUM