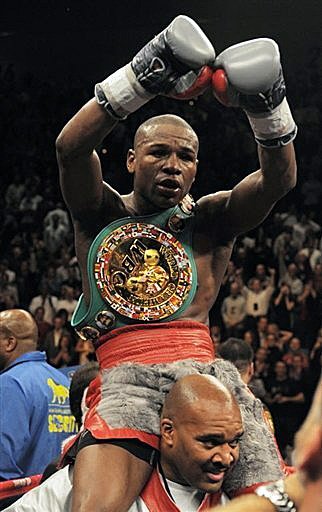 LAS VEGAS, Nevada (AFP) — Unbeaten Floyd Mayweather Jnr made his return to boxing on Saturday, ending a 17-month retirement just hours before his major rivals for boxing's pound-for-pound title meet in the ring.
The 32-year-old American will make his comeback in the ring on July 18 against Mexico's Juan Manuel Marquez at the same arena which hosts Saturday's fight between Filipino star Manny Pacquiao and Britain's Ricky Hatton.
Mayweather, 39-0 with 25 knockouts, was the undisputed welterweight champion after stopping England's Hatton in the 10th round here in December of 2007, but he retired after the fight, abdicating his pound-for-pound throne.
Pacquiao claimed that honor with three triumphs in three weight classes last year, the last of them over Oscar de la Hoya to send him into retirement.
But before Pacquiao and Hatton could meet for Hatton's International Boxing Organization junior welterweight crown and pound-for-pound honors, Mayweather stole their thunder by returning to make his own claim for the throne.
The issue figures to be settled in the ring, with the Hatton-Pacquiao winner becoming the likely next foe for Mayweather, possibly later this year.(Source:AFP)
Visit the NowBoxing Forum and talk boxing