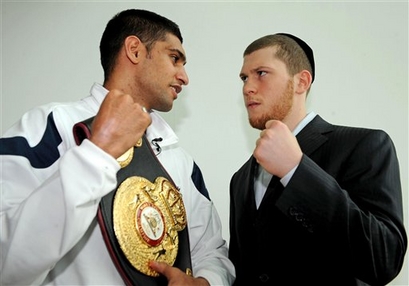 (AP Photo/PA, Owen Humphreys)
One would think that Amir Khan and Dimitry Salita would've played up the religious angle to draw tickets sales for their December 5th WBA junior welterweight showdown at the Newcastle Metro Arena.
But No stones or insults were thrown by either fighter, both were cordial to each other and both come from two different religious backgrounds, Amir being a devout Muslim and Dmitry an Orthodox Jew.
They showed nothing but pure class and sportsmanship during the press conference announcing the the fight.
Even though both fighters were respectful of each other it may be a different story for the Muslim and Jewish fans of the fighters.  As we have seen in sports the fans can have a different demeanor than the sports star they follow, and become overly passionate during these sort of events.
In an article by By Robert Millward of The Canadian Press both fighters had addressed the media with utter professionalism and made it clear this fight was not about religion.
"People should not make something that it's not," Salita said. "We are two guys from two different backgrounds coming to fight. I respect Amir Khan inside and outside the ring."
Khan believes this fight is about the title on the line not a religious battle:
"We are professional sportsmen in a worldwide sport," Khan said. "This fight is huge because we are fighting for the world title but not because of any religious aspect."
The fight is for Khan's WBA World light welterweight title, Metro Radio Arena, United Kingdom will host the event on December 5, 2009.
Talk about this in the Now Boxing Forum membership is FREE