By Lou "Cinder" Block
Those who have watched HBO 24/7 Pacquiao/Cotto last night could see the change in the Pacman.  It was a different side, an inconsiderate side that I had never seen before.
Roach made a comment about Pacquiao being happy over the small things before but not so much today, like when Manny came to the gym and was happy because he got a new pair of Mizuno boxing shows and showing off his new Mizuno shoes to Freddie. Well those times have changed and it seems Manny has finally fallen victim to the Fame.
Like many other star athletes once they get to a certain level they no longer cherish the little things.
Manny has gotten too comfortable wearing those silky pajamas to bed. In the episode he disobeyed Freddie, he promised Roach behind closed doors that they would leave early, but later on decided to stay a bit more in Baguio.
As Manny Pacquiao trained in the lavish Baguio gym, instead of taking a break to visit the victims he just stayed at the resort.  Roach as usual sticks up for Manny during the Baguio visit he tells the storm victims that Manny could not visit them because he told Manny to train for his fight,  no matter how bad Manny treats Freddie, Roach will defend Manny and never talk bad about him.
For those poor Filipino people,  just one glimpse of seeing their hero Manny Pacquiao in person would of boost their morale and give them hope.  Manny took time out from training to talk politics, but not visit those victims for a brief moment? I hope this was just HBO editing because that seems unlike the Manny Pacquiao image we are so used to seeing.
Even Floyd Mayweather Jr. took the time out of his training to help the homeless and give lectures to homeless youth. Mayweather showed even with all his money that he still has the time to help those less fortunate, but with Floyd Jr. people seem to overlook that side of him and focus on the negative.
I really felt for Roach, the father and son relationship that they once had or seemed to have was no longer there. As evidenced by the final scene where Manny was talking to some politician and Freddie who was  fed up because no one was listening to him tells Manny that they have to leave to LA already.
The response from Manny was shocking he rolled his eyes at Freddie Roach simply to dismiss him as if he was a nobody.
Pacquiao needs to realize how lucky he is to have a man like Freddie Roach in his corner, inside and outside the ring. Roach has stuck his neck out  for Manny many times. True friends like Roach always get overlooked when they get to a certain level, they forget the little people.
People like Roach are few and far between.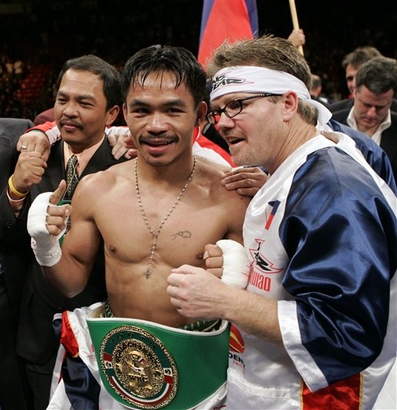 Comment on this in the Now Boxing Forum membership is FREE