By Lou Block
After watching the arrival of both Manny Pacquiao and Miguel Cotto, I noticed that Cotto's eyes were sunken, he looked surprised and wide eyed like he saw a ghost, that look is the look of a man who hasn't eaten in days with no fluids in him.  The same look was on previous Pacman victims, Oscar De La Hoya and Erik Morales.  That is a key sign of dehydration.
For those of you who say 1 pound doesn't make a difference in a fight,  it sure does make a difference when a fighter is coming down from 175 + pounds.  Pacman on the other hand was still fresh looking, no sign of dehydration at all, like he had a big glass of water right before his arrival.  He had a big smile,  probably from knowing that Cotto is killing himself to make weight.  I don't blame Manny, I would be smiling too if I had such an advantage over my opponent as well.
Pacquiao's trainer Freddie Roach said if Cotto comes in above the allotted weight limit he will cancel the fight and call it off, basically denying fans of a fight they wanted to see.   If I were Pacman and Cotto missed weight by a few pounds and weighed in at 147 lbs,  I would give that to Cotto, so I could prove myself against a fresh guy and as Manny says "make the people happy".
Another reason why Manny should still go through with the fight if Cotto doesn't make weight is for legacy.  If he lets Cotto come in at the 147 lb welterweight limit, he could finally claim that he won a title in legitimate fashion with no catch weight or stipulations.
Judge for yourself look at the pictures below:
Miguel Cotto from his previous media day workout days before heading to Las Vegas: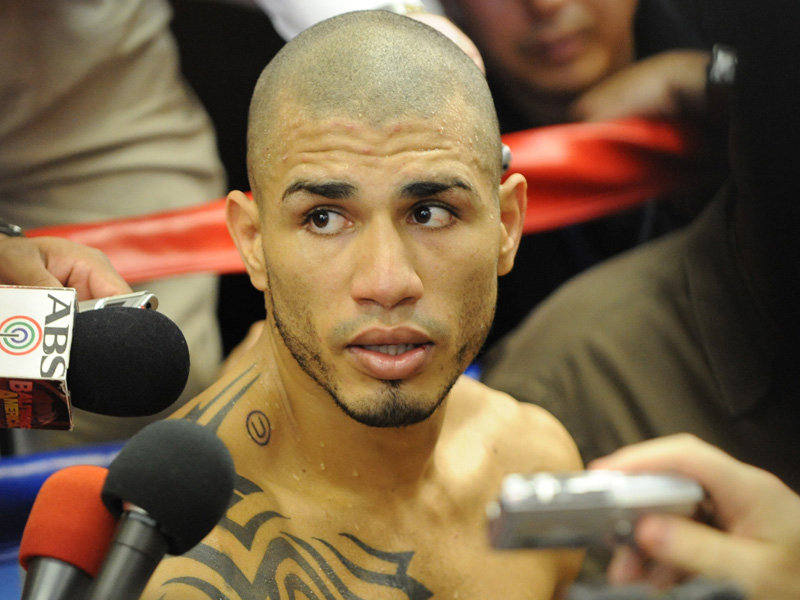 Miguel Cotto photo from yesterday 11-10-09 looking very gaunt and wide eyed, signs of weight drain.