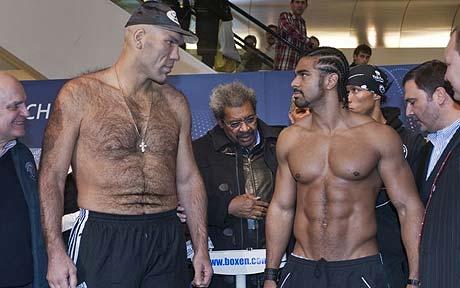 (AP Photo/Eckehard Schulz)
When British boxer David Haye stood face to face with the Russian Giant WBA Heavyweight Champion Nikolai Valuev,  the size difference was evident.  Nikolai Valuev is 7'2 and weighed in at 315.9 pounds.  David Haye is 6'3 and weighed in at a career high of 218 pounds.
Size means nothing to the Hayemaker, who is confident that he can KO the giant Russian, "I've dreamed of the moment Valuev falls to the canvas, and I truly believe it will be one of the most jaw dropping knockouts of all time," Haye told the media before Saturday's heavyweight Championship bout in Nuremberg, Germany.
"Winning any fight by knockout is a bonus, but being in a position to knock out a giant is an exciting proposition." Haye said.
Nikolai on the other hand is not impressed with the younger Haye's prediction, "It's nothing unusual to hear stuff like that and that someone would like to knock me out," Valuev said. "But to speak a lot before the fight is easy. And everyone can do that. You have to prove it and show what you can do in the ring."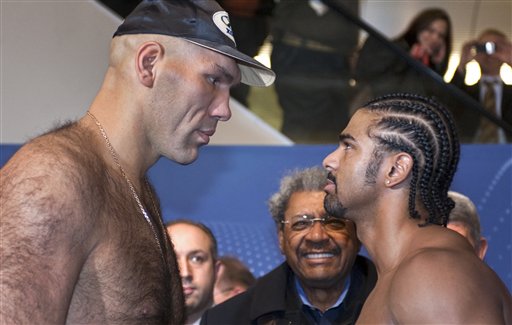 (AP Photo/Eckehard Schulz)
Earlier in the week, Freddie Roach trainer of Manny Pacquiao told The Telegraph.uk that he likes Haye by Knock Out.
"Haye will flatten Valuev, he'll crush him…He's too fast, too strong, too aggressive." Roach also believes Haye will bring a spark back to the heavyweight division because Haye is like Manny Pacquiao and comes to fight and takes chances unlike the Klitschko brothers who are boring and passive Champions.
Watch Nikolai "The Russian Giant" Valuev and David "The Hayemaker" Haye, live at 3pm ET/12pm PT on Pay-Per-View, Saturday, Nov. 7 from Nuremberg, Germany.
For more information on the Valuev vs. Haye PPV go to www.integratedsportsnet.com.
Discuss this and other boxing events in the Now Boxing Forum (membership is FREE)