By Staff
On Saturday, December, 18, at the Beeghly Center in Youngstown, Ohio, Kelly Pavlik of Youngstown will defend his WBC and WBO middleweight titles against Miguel Espino of North Hollywood, California.
Both fighters made weight while a special guest the Governor of Ohio, Ted Strickland, officiated Friday's weigh-in.  The challenger Miguel Espino (20-2-1, 9 KOs) weighed in at 159 pounds, the champion Kelly Pavlik (35-1, 31 KOs) weighed in at 160 pounds the middleweight limit.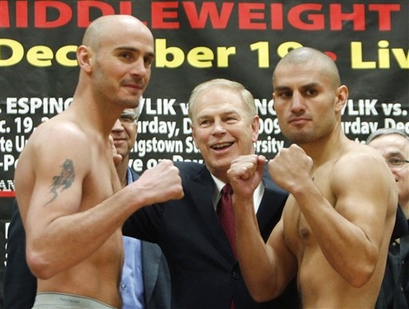 Governor Ted Strickland with Pavlik and Espino (AP Photo/The Vindicator, Robert K. Yosay)
Jack Loew, Pavlik's long time trainer, said "He(Pavlik) needs a knockout, we have to go in there and dominate this kid and let everyone know we're back."
Bob Arum, Pavliks promoter, reiterated "You hate to put that kind of pressure on him, but a knockout would help, he's had a terrible year. People really are wondering how good he still is. Hopefully this fight will answer it.".
Pavlik who goes by the nickname "The Ghost" is the heavy favorite in this fight, Pavlik's only loss was against Bernard Hopkins in 2008 by decision. Pavlik has been on a long layoff due to a staph infection in his hand, which forced him to cancel prior bouts with Paul Williams due to the injury being re-aggravated.
Miguel Espino gained fame as a contestant on the first season of the reality show titled "The Contender."  Espino acknowledges that he is the heavy underdog and hungers for victory over Pavlik.
A win on Saturday night would be a blessing for the 29 year old Espino.  Espino moved back home to take care of his legally blind mother and winning this fight would not only make him middleweight champion but would help him attain bigger matches and paydays in the future so he can help take care of his mother.
"A victory changes my life," Espino said. "It'll bring bigger and better things win, lose or draw. But winning? I'm an instant millionaire, no doubt."
Kelly Pavliks vs. Miguel Espino is the main event of a pay-per-view card that takes place in two countries.  Lightweights Humberto Soto and Jesus Chavez will begin the event at Arena Itson in Ciudad Obregon, Sonora, Mexico, after that WBA Interim Bantamweight champion Neomar Cermeno will take on challenger Alejandro Valdez.
After the Mexican portion of the card, the broadcast will change over to the Beeghly Center in Ohio for NABF Super Welterweight champion Willie Lee vs. undefeated Armenian-American Olympian Vanes Martirosyan, followed by the main event Pavlik vs. Espino to top of the Saturday night card.
Kelly Pavlik vs. Miguel Espino/Humberto Soto vs. Jesus Chavez. LIVE, Saturday, December 19 at 9PM ET on pay per view $39.95.
The ppv is presented and promoted by TopRank.com