By Reynaldo G
Got an Opinion? Submit Your Article to Nowboxing.com
First, I would like to thank Nowboxing.com for giving  fans like myself the opportunity to share our opinions.
I have read most of the news articles on the Floyd Mayweather camp insisting Manny Pacquiao submit to Olympic style drug testing for their March 13, HBO ppv fight at MGM Grand in Las Vegas.
I also believe Mayweather Jr. and his father are scared of Manny Pacquiao and whether they admit to it or not they think highly of the Pacman by suggesting he is on Steroids or HGH.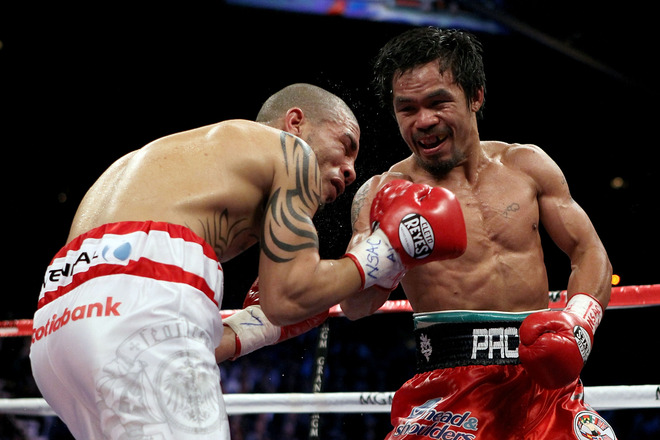 A ferocious Pacquiao unloads a combo on Miguel Cotto(Photo by Al Bello/Getty Images)
The father of Floyd Mayweather Jr. keeps saying what Pacquiao is doing is impossible no little man can become that muscular and strong with even more power and speed and take out bigger men.  By accusing Pacquiao of using performance enhancing drugs it goes to show you that Mayweather Sr. was amazed at what he believed was an unbelievable act, that only a man one steroids can accomplish such feats.
Manny's team which includes Bob Arum and Freddie Roach have already given Mayweather and Golden Boy Promotions a good enough compromise of letting Pacquiao take a blood test right at the start of camp, a Urine test every day leading up to the fight if requested and a blood sample immediately after the boxing match.
Now team Mayweather is saying no can do, they want Manny to comply by Olympic style drug testing which may include multiple random blood samplings instead of the NSAC (Nevada State Athletic Commission) drug testing which is mainly Urinalysis.
Manny Pacquiao has his own beliefs and superstitions, he comes from an old school way of thought and he insists on his own routines before bouts.  He feels if you mess with his routine it disrupts his flow.
Prior to his first fight with Erik Morales, Pacquiao's former promoter Murad Muhammad disrupted that flow and didn't look out for his fighter by agreeing to all of Team Morales contract demands.  Pacquiao uses nothing but Cleto Reyes "punchers" gloves and was forced to wear the heavily padded Winning gloves which Morales prefers, Pacquiao also had to take a blood test a few days prior to the bout,  this could be when the superstition not to take blood a few days from the fight developed since he lost that fight to Morales and felt he wasn't right mentally.
Pacquiao went on to stop Morales two times in rematches, Pacquiao felt more confident with his Cleto Reyes gloves and not having to take blood a few days before the fight, Pacquiao hasn't loss a fight since.
Why would they mess with a guys ritual? Would you tell a Muslim to eat pork before his fight?  If Pacman does go through with this testing it will just add more fuel to his fire.  I feel bad for Mayweather Jr. on March 13, because a pissed of Pacquiao is not someone you want to be in the ring with.
I'm not Filipino but I have many Filipino friends and from what they've told me is what Mayweather and his family are doing is an ultimate sign of disrespect.  In their country when a man disrespects another man in the Philippines they deal with it in the street they don't go to the court and sue.
Discuss this and other boxing events in the Now Boxing Forum (membership is FREE)