By NowBoxing Staff
After the Olympic drug testing disagreement between Team Pacquiao and Team Mayweather, Bob Arum of Top Rank Promotions who promotes the popular Filipino boxer Manny Pacquiao has called the fight off for now according to an article by USA Today.
"The plug is pulled.  The fight is off as far as we're concerned," said an agitated Bob Arum after reading the news release by Golden Boy Promotions CEO Richard Schaefer saying Pacquiao refuses to take a steroid blood test before the fight.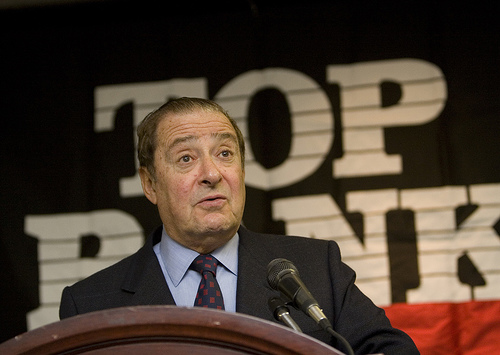 Arum continued "Mayweather proves that he's a coward and he's looking for a way out of the fight. The Nevada commission has been doing drug testing for the last 40 years.  To appease Mayweather, we agreed they could do urine analysis anytime they wanted. But Manny doesn't want them to draw his blood when he's in training because it weakens him."
"All they're doing is harassing Pacquiao.  I'm not going to allow it to happen," said a concerned Arum.  "We're willing to do urine analysis at random even though we don't have to do it under Nevada rules.  I know deep down Mayweather doesn't want the fight.  He can take a walk."
The super fight venue was named earlier in the week, MGM Grand hotel and casino in Las Vegas, Nevada landed the boxing match.  MGM Grand won the bidding, although Dallas Cowboys owner Jerry Jones put up a respectable site fee offer of $25 million for the Mayweather Vs. Pacquiao fight.  The super fight was set to take place on March 13, 2010 and broad cast live on HBO pay per view and was estimated to break all previous pay per view records.