By Nowboxing Staff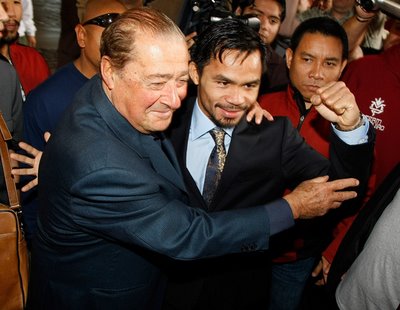 Top Rank Promotions,Bob Arum, has been let down once again after leaving  Tuesday's nine hour mediation with hope for the mega fight between Manny Pacquiao and Floyd Mayweather Jr. to get made sometime this week, he received a crushing call this evening by mediator Daniel Weinstein.
"The mediator called me and told me the fight was off," Arum told the LA Times. "The fight's off, Mayweather never wanted it. Manny wanted the fight. He was agreeable to terms."
Arum sticks by his prior assertion that Floyd Mayweather Jr. never wanted to face Manny Pacquiao because he believes that Manny Pacquiao can beat him.
"I am disappointed in the sense this fight will not happen…I'm not surprised…I always knew Mayweather would kill it because he didn't want it. He didn't want to lose." expressed a disappointed Arum.
Manny Pacquiao still has a lawsuit gainst the Mayweather family and Golden Boy Promotions for attempts to ruin and defame his good name and character to the media and public with steroid and performance enhancing drug accusations.
Bob Arum is now looking to set up a match up with 154lb champion Yuri Foreman for March and Floyd Mayweather Jr. is rumored to start fighting overseas against Ricky Hatton's younger brother Matthew Hatton.
Discuss this and other boxing events in the Now Boxing Forum (membership is FREE)